North America
Middle East
US to designate gulf puppet Qatari regime as major non-NATO ally amid looming energy crisis in E Europe
US President Joe Biden says he plans to designate Qatar as a major non-NATO ally, amid a looming energy crisis in Eastern Europe and at a time of heightened tensions with Russia over Ukraine.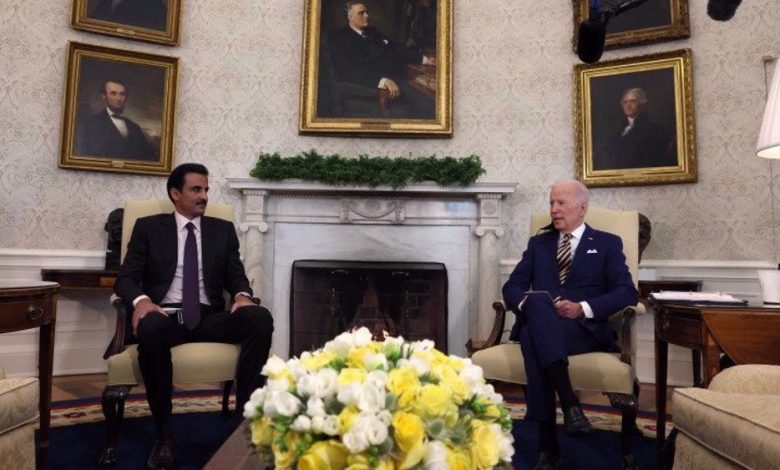 Biden made the announcement during a meeting with Qatar's emir, Sheikh Tamim bin Hamad Al Thani, in the Oval Office at the White House on Monday, calling Qatar a "good friend and reliable partner."
Biden said he planned to notify the US Congress soon of the designation, which is granted by the United States to close, non-NATO allies that have strategic working relationships with the US military.
"Qatar is a good friend and reliable and capable partner. And I'm notifying Congress that I will designate Qatar as a major non-NATO ally to reflect the importance of our relationship. I think it's long overdue," the US president told reporters, with the emir sitting at his side.
The status, which would give Doha special economic and military privileges in its relationship with Washington, would make Qatar the second country in the Persian Gulf region after Kuwait to become a major non-NATO ally of the US.
Al Thani welcomed Biden's promise to designate Qatar as a major non-NATO ally, saying the decision reflected the strength of bilateral relations and opened up "partnership opportunities."
Coinciding with Al Thani's visit to Washington, the state-owned flag carrier Qatar Airways placed a provisional order for dozens of passenger jets with the US manufacturer Boeing.
Biden praised the deal, which he said is worth $20 billion, saying, "[It's] one of the largest deals that Boeing aircraft has ever had, and it will support tens of thousands of good-paying US jobs here in America."
The Qatari emir's visit to Washington, the first since the Biden administration assumed office in January 2021, comes amid a diplomatic and military crisis in eastern Europe, where Washington has accused Russia of planning an invasion of Ukraine.
Qatar is the world's largest supplier of liquefied natural gas and may divert supplies to Europe if the Ukraine conflict disrupts Russian gas deliveries to the continent.
Last week, the White House said Biden would discuss "ensuring the stability of global energy supplies" with the Qatari emir as tensions escalated between the West and Russia over Ukraine.
Western countries accuse Russia of preparing for an invasion of Ukraine by amassing 100,000 troops and armaments near the border with that country. Rejecting the allegation, Moscow says the troop build-up is defensive as NATO has increased its activities near Russian borders.
'Qatar working to bring US, Iran's views closer'
Qatar's Foreign Minister Sheikh Mohammed bin Abdulrahman Al Thani reportedly said on Monday that Doha was using its open channels with Washington and Tehran to bring the two sides' views closer.
Qatari Al Jazeera television news network reported the development and said the measure was aimed at reviving the 2015 Iran deal.
Meanwhile, Qatar's top diplomat also said limiting Europe's energy supply problems solely to the current Ukrainian crisis was "unfair," adding that "global energy issues are not short term, rather, they take collective action to be resolved."