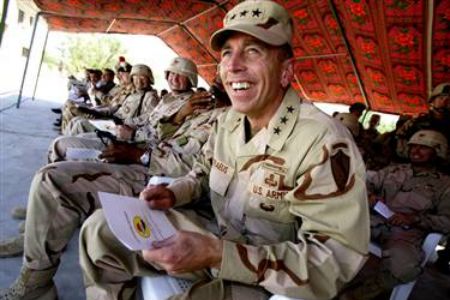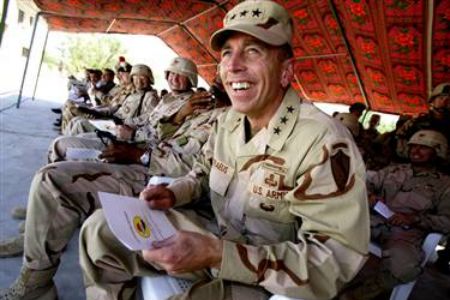 The commander of the US and NATO forces in Afghanistan says the Western military alliance will increase its military operations along the Afghan-Pakistan border.
Gen. David Petraeus, who took over command of US-led coalition troops in Afghanistan in July, says there had already been coordinated operations on both sides of the troubled border.
"We want to do more hammer and anvil operations," the Associated Press quoted Petraeus as saying.
The remarks come days after US President Barack Obama blamed Pakistan for not doing enough to fight terrorism in its troubled northwestern tribal belt along the Afghan border.
"All participants recognize the need to do more against some of those elements that are undermining security in Afghanistan," Petraeus said.
This is while US Vice President Joe Biden has recently said that Washington was seeking to increase its presence in Pakistan under the pretext that militants seek to "bring down" the Islamabad government.
"Our overarching goal and our rationale for being there is to dismantle, ultimately defeat al-Qaeda… to make sure that terrorists do not, in fact, bring down the Pakistani government, which is a nuclear power," Biden said in an interview with NBC's "Meet the Press" on last Sunday.
Analysts say the US is looking for an excuse to expand its military operations in the troubled South and central Asian regions to secure bases near Russia and China.
The developments also come as US planes and helicopters have violated Pakistan's airspace several times over the past months.
Unauthorized US drone attacks have drawn strong criticism from the Pakistani people and officials.
In the latest developments, several non-UN-sanctioned US drone attacks have killed scores of people in the Khyber Agency tribal region in the past week.
The US-led the invasion of neighboring Afghanistan took place with the official objective of curbing militancy and bringing peace and stability to the region. Nine years on, however, the region remains unstable and militancy has expanded towards Pakistan.