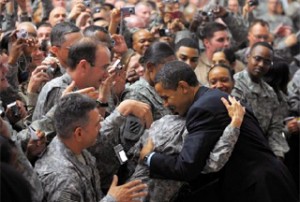 A US official has stressed that the US has no intention of pulling out its troops from Afghanistan in the near future and "certainly not in 2011."
"The United States has no intention of leaving Afghanistan in the near future, certainly not in 2011," US National Security Advisor General James Jones told reporters at a press conference on Friday when asked about President Obama's recent statement on withdrawal of US troops from Afghanistan.
"The President's decision did not mean that we will leave in 2011. It just means that that will be a transition point where we will begin to pull some of our forces back and turn over some of the responsibilities to the Afghan themselves," Jones said at the Foreign Press Center.
According to General Jones, what Obama actually said was that the US troops "will begin to come home" after 18 months.
"It's very important to use the right words where this is concerned," he explained in response to an Afghan journalist, saying that the words "US troops will leave in 2011" are inaccurate.
Meanwhile, General Stanley McChrystal told Afghan ministers and parliamentarians in Kabul on Thursday that the US presence in the country was long-term.
McChrystal said that the focus of Obama's new strategy was "to provide an opportunity for the Afghan people to build enough capacity to provide security themselves."
More than eight years after the initial US invasion, the US president Tuesday announced his intention to deploy 33,000 more troops to Afghanistan to end the conflict there.
Moreover, NATO pledged an additional 5,000 troops to fight the militancy in the war-ravaged country.
Although nearly 110,000 foreign troops are present in Afghanistan, they have not been able to establish stability in the country.