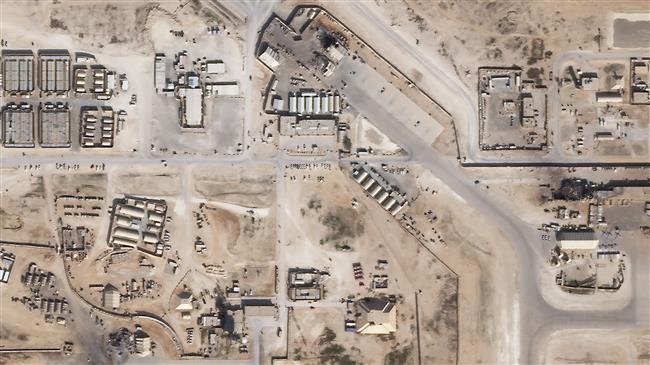 US troops have cleared rubble and debris from the Ain al-Assad base in the western Iraqi province of Anbar, days after it was struck by a barrage of Iranian ballistic missiles in a retaliatory attack over the assassination of Iran's top anti-terror commander.
The Associated Press reported on Monday that one of its crew, touring the airbase, had seen "large craters in the ground and damaged military trailers as well as forklifts lifting rubble and loading it onto trucks."
The base is a large complex located about 180 kilometers west of the Iraqi capital of Baghdad, housing about 1,500 US forces and members of the US-led coalition that purported to fight the Daesh Takfiri terrorist group.
Donald Trump, the president of the United States, visited the sprawling air base in December 2018, making his first presidential visit to US troops in the region.
On January 8, the Islamic Revolution Guards Corps (IRGC) fired volleys of ballistic missiles at Ain al-Assad, and another outpost in Erbil, the capital of the semi-autonomous Iraqi Kurdistan.
IRGC targets US airbases in Iraq in response to assassination of General SoleimaniIran's Islamic Revolution Guards Corps (IRGC) has targeted US airbases in Iraq.
The missile operation was in response to the January 3 assassination by US terrorists of Lieutenant General Qassem Soleimani, commander of the IRGC's Quds Force, and Abu Mahdi al-Muhandis, the second-in-command of Iraq's Popular Mobilization Units (PMU), and a group of their companions in Baghdad. The cowardly operation was conducted under Trump's direction. The US Department of Defense took responsibility for the assassination.
Both commanders enjoyed deep reverence among Muslim nations over their endeavors in eliminating the US-sponsored Daesh Takfiri terrorist group in the region, particularly in Iraq and Syria.
US assassinates Iran's Gen. Soleimani, Iraqi PMU deputy headThe director of public relations of pro-government Hashd al-Sha'abi forces has been killed after three Katyusha rockets fell on Baghdad International Airport.
Soon after the assassination, Leader of the Islamic Revolution Ayatollah Seyyed Ali Khamenei said Washington was to face a "harsh revenge."
At the White House, Trump has denied the Iranian missiles left any casualties. Tehran said the US military conducted at least nine sorties after the operation, taking the wounded to Jordan and the Occupied Territories, while Chinook helicopters transferred the injured to a US hospital in Baghdad.
Iraqi lawmakers have unanimously approved a bill that calls for the withdrawal of all US-led foreign troops from the Arab country in the wake of the assassination.