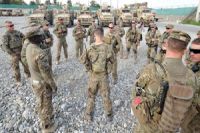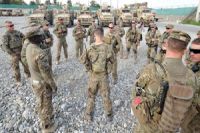 Some 150 American troops arrived in Latvia on Friday as part of a bigger contingent of US forces sent to the Baltic states amid rising tensions between Russia and the West over the crisis in Ukraine.
"Today is a special day because this morning I met the heads of the armed forces at the Adazi military base and greeted the US military unit that arrived this morning for military training," said Latvian Prime Minister Laimdota Straujuma on Friday.
Another company of US Army troops arrived in Poland on Wednesday and around 150 others are expected in both Lithuania on Saturday and Estonia early next week.
"I am glad that today our allies arrived here on Latvian soil and this shows that the NATO alliance is there for us," said Estonian Prime Minister Taavi Roivas.
On Tuesday, the US said it was sending 600 troops to the region in order to increase its military presence there and reassure its allies.
Meanwhile, Russia has begun extensive military drills near its border with Ukraine, saying the escalation of violence in eastern Ukraine and the militarization of the region by the US and its allies have forced it to react.
"The order to use force against civilians has already been given, and if this military machine is not stopped, the amount of casualties will only grow," Russian Defense Minister Sergei Shoigu said, referring to a military operation against anti-Kiev protesters in eastern Ukraine, which includes 11,000 Ukrainian soldiers, 160 tanks, 230 armored carriers, and at least 150 artillery pieces.
"War games by NATO in Poland and the Baltic states are also not helping the normalization of the situation. We are forced to react to the situation," he added.