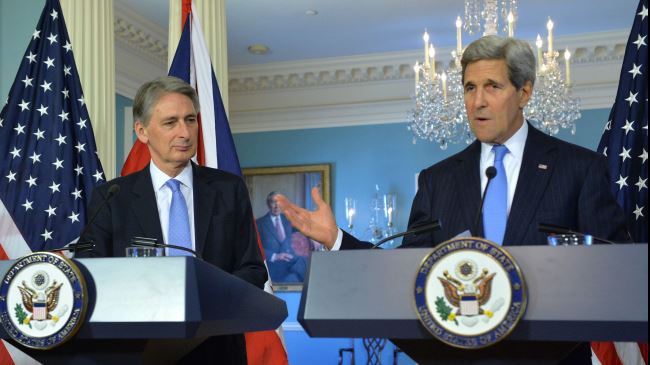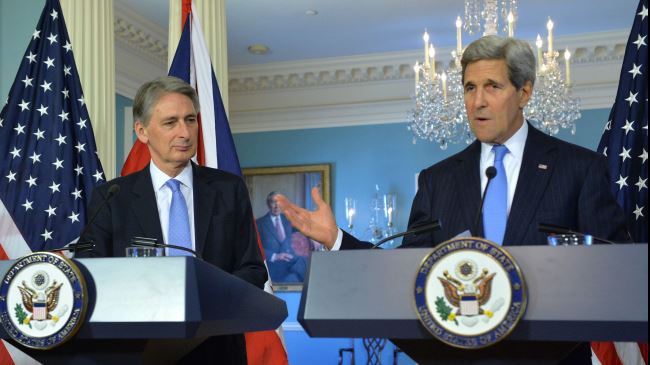 The UK and the US say they are ready to examine the Turkish idea of setting up a buffer zone in Syria to protect refugees fleeing ISIL violence.
US Secretary of State John Kerry made the announcement on Wednesday in a joint press conference with British Foreign Secretary Philip Hammond in Washington DC.
"The buffer zone is an idea that's out there, it's worth examining, it's worth looking at very, very closely," said Kerry.
The US secretary of state added that creating a buffer zone will be one of the issues General John Allen, President Barack Obama's anti-ISIL envoy, would be discussing with Turkish officials during an upcoming two-day meeting in Turkey.
Kerry said the two sides would also discuss what role Turkey will take up following the release of the Turkish hostages held by ISIL, adding that the so-called coalition led by the US against ISIL is trying to deprive the terrorist group of its overall ability, not only in Kobani, a Syrian border town with Turkey, but also elsewhere in Syria and in Iraq.
Hammond, for his part said, the UK would continue to work closely with its coalition partners on further actions against ISIL militants.
"We'd have to explore with our other allies and partners what is meant by a buffer zone, how such a concept would work," said Hammond, adding, "But I certainly wouldn't want to rule it out at this stage."
The buffer zone has been proposed by Turkey in a bid to protect its border against ISIL and to provide security for Syrians fleeing the onslaught by the militants.
The latest reports suggest that Kurdish fighters in Kobani are getting the upper hand in the urban warfare between them and the Takfiri ISIL terrorists.
The intense fighting for the strategic town has forced nearly 200,000 people to take refuge in Turkey.
The UN envoy to Syria, Staffan de Mistura, has called for an urgent international response to prevent Kobani from falling into the hands of the ISIL terrorists.