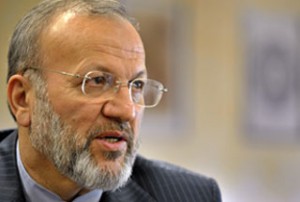 Iran's Foreign Minister Manouchehr Mottaki says the US and Britain's intrusive behaviors have merely weakened their positions in the world's public opinion.
The Iranian official made the remark in a meeting with his British counterpart David Miliband on the sidelines of the UN General Assembly in New York on Thursday.
"Britain can take advantage of mutual cooperation with Iran by choosing the right path and correcting its wrong behaviors and policies," Mottaki said.
"Britain's measures and policies have made its mutual ties with Iran unreliable in the past decades," he added.
The Iranian minister further pointed out that his country has played an important role in the stability and development of the region.
"Iran's role in the region and the world can not be ignored by some powers," he explained.
"Measures taken by some specific countries against Iran's peaceful nuclear program are absolutely political and spiteful, but the Iranian nation will never bow to pressures and threats," he noted. "Western countries should have understood that such policies are futile."
Meanwhile, Mottaki called for the immediate release of Iranian diplomat Nosratollah Tajik, who is currently being held in Britain. The 54-year-old envoy was arrested in November 2006, accused of trying to buy night vision goggles for Iran from US mediators.
The British Foreign Minister, for his part, said that there is a particular inference with regard to Britain's policies in Iran.
"London is not willing to interfere in Iran's internal affairs," Miliband said.
"We hope Tehran changes its viewpoint on Britain," he concluded.