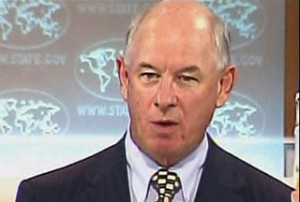 As Iran has expressed a readiness to see about sending its uranium abroad for processing, the US says Tehran should inform the International Atomic Energy Agency (IAEA).
"There is a forum to be able to resolve whether this is a serious offer and that's through the IAEA. If Iran is serious, they can inform the IAEA that they are ready to accept the deal that's on the table," Reuters quoted State Department spokesman P.J. Crowley as saying Tuesday.
On Tuesday, Iranian President Mahmoud Ahmadinejad said that Iran will welcome "honest" nuclear cooperation with other countries, saying that Iran is ready for a nuclear swap.
"We have said that if you (the Western side) act honestly, we will cooperate with you," he said.
He said that if our enriched uranium is not returned based on the agreement with the UN nuclear agency, it will be to the benefit of Iran, giving Tehran a free hand in its enrichment program.
Under a UN-brokered proposal hammered out in Geneva in October, the US, France and Russia want Iran to send most of its domestically-produced low enriched uranium (LEU) abroad to be converted into a more refined fuel for the Tehran nuclear medicine research reactor.
Crowley made the comment in response to President Ahmadinejad's remarks and said, "We are not prepared to change the deal … We are not interested in renegotiating it."
"If Iran wants to accept it, then they should inform the IAEA," he added.
The State Department spokesman said that Tehran should follow through on the original deal and "give us a definitive answer."