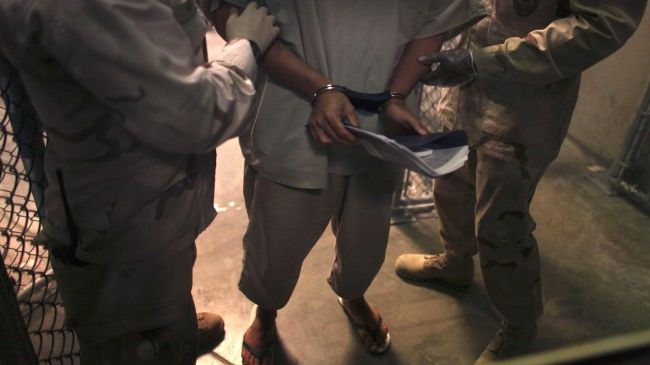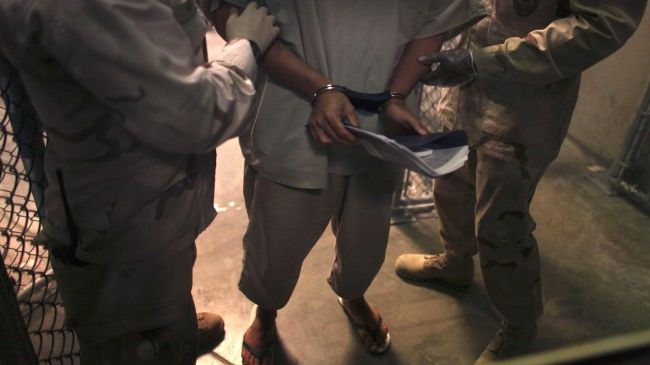 Newly declassified documents show that American military officials secretly used a number of harsh tactics against detainees at the Guantanamo Bay prison to force them to break their hunger strike.
Lawyers of the inmates made the revelation after they released some interviews with the hunger strikers.
Night raids on cells, placing prisoners in solitary confinement, and changing temperatures of the cells were among the brutal tactics used by the US to break the hunger strike.
More than 100 detainees of the 164 men inside the prison went on a hunger strike in February to protest against their "torturous" conditions and indefinite detention.
In September, US authorities announced the end of the six-month hunger strike. Lawyers representing the inmates, however, say some of their clients are still refusing to eat.
"The US authorities have, with some glee, announced the hunger strike to be over. What they fail to tell you is the horrific things they did to crush the hunger strikers' spirits, as my clients have described. And yet still there are at least 16 men striking and being brutally force-fed twice a day," according to lawyer Cori Crider.
Syrian detainee Abu Wa'el Dhiab said the prison's military riot squad "stormed" one of the strike leaders' cell five times a day.
"They have deprived him of food, water and medicine. Then the riot squad uses the excuse of giving him water and food and medicine to storm his cell again," The 42-year-old Wa'el said about Shaker Aamer.
"They took him to the clinic, tore his clothes off and left him with only his underwear for long hours, taunting him," he added.
Another prisoner, Ahmed Belbacha, who is from Algeria and has been cleared for release, said that solitary confinement was used as a punishment for prisoners making political statements.
He also described how the authorities were punishing them by confiscating their personal belongings.
"My glasses, legal papers, toothbrush, toothpaste and all my other necessities have been taken," he said.
The Guantanamo prison in southeastern Cuba holds 164 men seized during the US military's "counter-terrorism" operations. Most of the prisoners have been held without charge or trial for more than a decade.