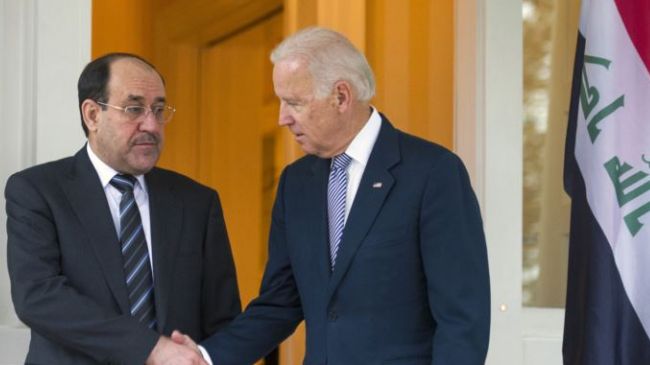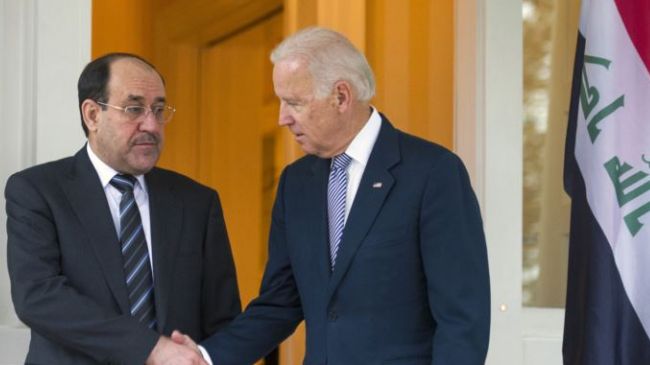 US Vice President Joe Biden has vowed support for the Iraqi government in its fight against emerging al-Qaeda-linked militants in the country.
In separate calls on Monday with Prime Minister Nuri al-Maliki and Speaker of Iraqi Council of Representatives Osama al-Nujaifi, Biden "expressed concern for those Iraqis who are suffering at the hands of terrorists and praised the recent security cooperation between Iraqi Security Forces and local and tribal forces in Anbar province," the White House said in a statement.
Washington is accelerating its deliveries of military equipment to Baghdad to help the country fight the extremist group, the Islamic State of Iraq and the Levant (ISIL), the statement said.
Al-Qaeda-linked militants have been tightening its grip on Iraq's Anbar province, and last week captured positions in Ramadi and large parts of Falluja.
In his call with Nujaifi, the US vice president praised the recent cooperation between Iraqi Security Forces and local, tribal, and national leaders in the fight against ISIL.
Maliki has already called on the residents and tribal members in the western city of Fallujah to expel the terrorists who "have infested" the city, which has been the scene of deadly clashes between security forces and the militants over the past days.
White House spokesman Jay Carney told reporters that the US is "working closely with the Iraqis to develop a holistic strategy to isolate the al-Qaeda-affiliated groups, and we have seen some early successes in Ramadi."
"This situation remains fluid, and it's too early to tell or make conclusions about it. But we're accelerating our foreign military sales deliveries," he said.
As part of its support, the United States is sending additional shipments of Hellfire missiles, 10 ScanEagle surveillance unmanned aerial vehicles (UAVs), and 48 Raven surveillance UAVs to Iraq in the coming months to help the country track insurgent groups.