Iran
Middle East
North America
"US wants to make anyone dealing with Iran pay the price"
Press TV journalist Marzieh Hashemi and stem cell scientist Dr. Masoud Soleimani, both Iranian citizens who experienced illegal detention by the US government, have offered their assessments of why they think they were subjected to such unfair treatment by Washington.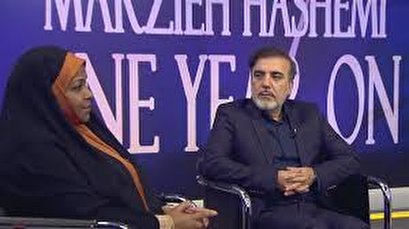 Hashemi, the American-born Press TV journalist and presenter, views her detention as part of the US government's "intimidation" tactics against individuals who are somehow connected to the Islamic Republic.
Speaking on Press TV's Debate program, which marked one year since her detention in the United States, Hashemi said, "It is this battle by the United States against Iran, and they would make an example out of anyone, who plays whatever role in the Islamic Republic."
Hashemi, a Muslim convert, was detained at St. Louis Lambert International Airport in Missouri on January 13th last year while in the US to visit her ill brother and other family members.
She was then transferred to a jail in Washington, DC, where she was initially forced to stop observing her Islamic dress code and only offered non-halal food. The Federal Bureau of Investigation declined to comment on her arrest at the time, but the US government confirmed that she had been arrested as a "material witness."
The US government finally released her 10 days later without charge.
She added that the intimidation campaign is aimed at "those who want to stand up and speak about the Islamic Republic, talk about Iran, whether on social media on other forms."
"[The US is seeking to] make an example that 'if you do this, you're going to pay a price,'" Hashemi observed.
Also in October 2018, the FBI arrested the Iranian stem cell scientist at an airport in Chicago. Soleimani had been invited by the Mayo Clinic in Minnesota to lead a research program there.
The arrest was made on alleged charges that he had violated the US trade sanctions by trying to have biological material transferred to the Islamic Republic. The charges related to September 2016 when Soleimani had seized on two former students' plans to travel from the US to Iran to get recombinant proteins, which are found fundamentally in every medical testing and biological research laboratory.
Soleimani was imprisoned in Atlanta, Georgia without trial after arrest. He traveled back to Iran in December after being released by the US in a prisoner swap.
Iranian scientist Soleimani arrives home after over one year behind bars in USFreed Iranian stem cell scientist Soleimani arrives in Tehran after over one year of imprisonment in the United States.
'US uneasy with Iran progress'
Soleimani told Press TV that he had been subjected to a 14-month ordeal "almost for no reason," recalling "regular pressure, stress, and inhumane conditions in a country that claims to be adhering to the law" during his detention.
"I was not given a trial. Obviously you need to be tried for any wrongdoing you've committed. But there was no trial. They were just clinging on to this excuse [that I had] bypassed the sanctions," Soleimani added, explaining that he had just attended one court hearing during which no evidence or document had been presented against him.
Soleimani recalled that his attorney had reasoned with US officials that he had done nothing wrong except working to advance the treatment of his patients, and to serve humanity, and that eventually he had been proven innocent and acquitted after 14 months of unjust detention.
"What I realized was that the Americans are concerned about advancement of science and knowledge in Iran," as has been indicated by the cases of other Iranian scientists, who faced similar problems, Soleimani noted.
Showing her approval of Soleimani's remarks, Hashemi added, "If you progress scientifically, either you do it in the name of the United States or, if you're doing it in the name of Iran, you're going to pay a price."
The duo's remarks came a day after American Customs and Border Protection agents arrested and deported an Iranian student holding a valid visa at the Massachusetts airport, in a case that has caused much media uproar.
Iranian student deported from US despite federal judge orderUS Customs and Border Protection has deported an Iranian student with a valid visa despite a federal court order to delay his removal.