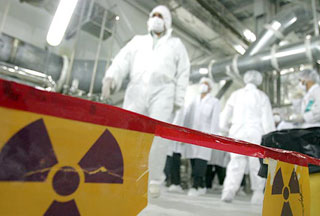 Hours after Iran's announcement of building ten new enrichment plants, the United States warns the Islamic Republic against the decision.
After a cabinet meeting on Sunday, the Iranian government tasked the country's Atomic Energy Organization (AEO) with building ten more nuclear enrichment sites.
Meanwhile a State Department spokesman reacted to the announcement, accusing Iran of breaking international laws if it carries out its new nuclear plan.
"If carried out, this would constitute yet another violation of Iran's continuing obligation of suspension of all enrichment-related activities including construction of new plants," a State Department spokesman told AFP.
The Islamic Republic is already under three rounds of UN Security Council sanctions resolutions calling for a halt to the country's enrichment work.
Tehran denies seeking nuclear weapons through its enrichment work and has called for the removal of all weapons of mass destruction from across the globe.
Iran argued on Sunday that its ten new plants seek to provide the country's power plants with 20,000 megawatts of electricity for domestic use and this can only be achieved through installation of 500,000 new centrifuges.
Iran's announcement for the new industrial scale enrichment plants comes as earlier in the week six world powers drafted a resolution at the UN nuclear watchdog against Iran's nuclear work demanding a halt to construction work at the Fordo nuclear site.