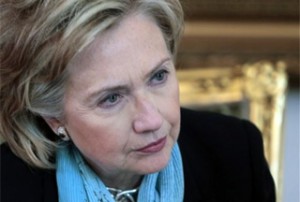 As Iran increases its presence in US backyard, the US secretary of states warns Latin American nations about the consequences of the move.
Iranian President Mahmoud Ahmadinejad went on several official trips to Latin American countries, including Brazil, Bolivia and Venezuela in November.
During his visits, Ahmadinejad signed a number of agreements with Latin American leader to launch joint projects and thus increase Iran's presence in the region.
Pointing to the recent upsurge in relations, Hillary Clinton said on Friday that "we can only say that is a really bad idea for the countries involved," warning Bolivia and Venezuela in particular.
Clinton went on to accuse Iran of being "the major supporter, promoter and exporter of terrorism in the world."
While Iran has always stated its opposition to extremism, Washington is accused of funding and supporting terrorist groups such as the Taliban in Afghanistan.
"In the 1980s, the administration former US president Ronald Reagan delivered several hundred shoulder-fired Stingers to Afghan resistance groups, including the Taliban," The New York Times reported.
Pakistan's President Asif Ali Zardari also confirmed in a May 7 interview with the NBC that "the ISI and CIA created them (the Taliban) together."
The US secretary of state, however, went on to warn that "if people want to flirt with Iran, they should take a look at what the consequences might well be for them. And we hope that they will think twice."