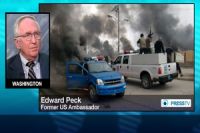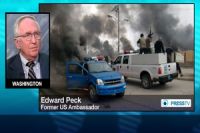 A former US diplomat says it is very unlikely that the United States would send troops to Iraq under the current "circumstances."
Edward Peck, former US chief of mission in Iraq, told Press TV: "It is fairly safe to predict that America will not send troops into Iraq for a number of reasons."
Among the reasons, the former ambassador said, is that "it wouldn't make much difference to send in small numbers" of troops as "US failed" before with large numbers.
Peck made the comments as US Army Gen. Ray Odierno expressed his opposition to sending American ground troops back to Iraq in the wake of the latest violence in the country.
According to Gen. Odierno, Washington should remain engaged diplomatically to help the Iraqi government get its political system back on track.
Secretary of State John Kerry said that the US was ready to help Iraq in any way possible but he made it clear that no troops would be sent in.
The cities of Fallujah and Ramadi in the Anbar Province have been the scene of deadly clashes between the Iraqi army and al-Qaeda-affiliated militants over the past days.