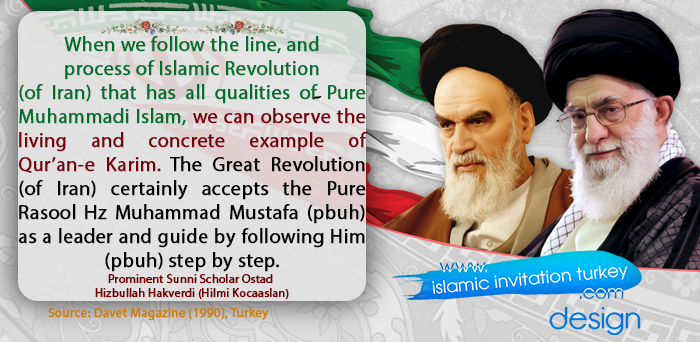 The bright structure of Islamic Revolution and the method of Nabawi Movement
When we follow the line, and process of Islamic Revolution (of Iran) that has all qualities of Pure Muhammadi Islam, we can observe the living and concrete example of Qur'an-e Karim.

Late Imam Khomeini (r.a) enthroned the Pure Muhammadi Islam to its throne in perspective of inheritance of Prophets (pbut) by resisting against World's arrogant Powers with a great faith, submission to God, inner peace without being scared or worried in front of united blasphemy block.

The Great Revolution (of Iran) certainly accepts the Pure Rasool Hz Muhammad Mustafa (pbuh) as a leader and guide by following Him (pbuh) step by step.
Prominent Sunni Scholar Ustad Hizbullah Hakverdi (Hilmi Kocaaslan), 1990, Turkey