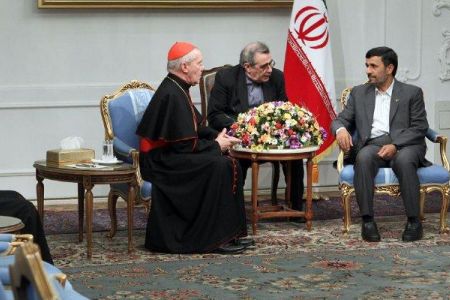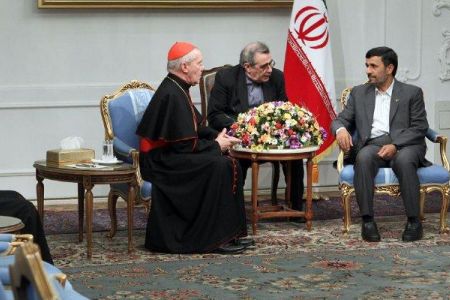 Pope Benedict XVI has sent a written reply to a letter from Iran's President Mahmoud Ahmadinejad, a Vatican spokesman says.
The Iranian president received the letter in Tehran on Tuesday via Cardinal Jean-Louis Tauran, head of the Pontifical Council for Inter-religious Dialogue, Vatican spokesman Ciro Benedettini said Wednesday.
The Vatican official had been in the Iranian capital to attend a three day inter-religious dialogue.
The event came as the seventh round of meetings between the Islamic Culture and Relations Organization and the Vatican's Pontifical Council for Interreligious Dialogue.
The spokesman did not disclose the contents of the letter but said it was a reply to a previous message by Ahmadinejad in October.
In his letter to the pontiff President Ahmadinejad praised the Vatican's stance regarding the desecration of the Holy Qur'an and called for more cooperation among religions to stop the moral degradation of societies.
Terry Jones, pastor of the Dove World Outreach Center in Gainesville, Florida, sent shockwaves across the globe by announcing a plan to set copies of the Quran on fire on the ninth anniversary of the September 11, 2001 attacks.
The Vatican at the time denounced the plan calling it "outrageous and grave."
The Vatican body responsible for dialogue with other religions said "every religion has the right to respect and protect its sacred books, places of worship and symbols."
The pastor was eventually forced to cancel his plans that triggered protests in India, Pakistan, Afghanistan, Iran and Indonesia.
Although the pastor cancelled earlier plans to burn copies of the Qur'an, other anti-Islam elements in the US desecrated the holy book in New York and in Washington on the anniversary of the 9/11 attacks.