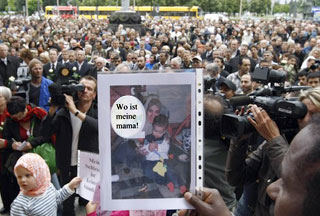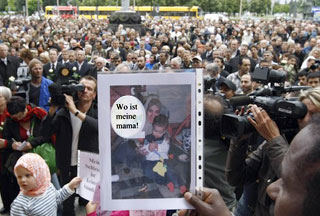 The family of an Egyptian woman gruesomely murdered in a German court last year has filed a lawsuit against two judges for failing to take safety precautions.
Marwa el-Sherbini was stabbed 18 times by her neighbor Axel Wiens before police officers, her husband and her son, in a courtroom in the northern town of Dresden.
The courtroom was reviewing an earlier verdict fining Wiens for insulting Sherbini and calling her a "terrorist" for wearing the Islamic veil, hijab.
The family now says the presiding judge and the Chief Judge of the courthouse must be held responsible for failing to ensure the safety of a witness despite knowing Wiens was dangerous, the Junge Welt newspaper reported on Saturday.
Wiens had earlier described Sherbini as a "crazy Islamist" and was sentenced to life for the murder of the 31-year-old mother, who was three months pregnant at the time of the deadly assault.
Sherbini's family has now filed a case, called a Klageerzwingungsverfahren in German (action enforcement process), which will force the higher regional court to review their case.
Police officers involved in the case have also come under fire for shooting Sherbini's husband when he struggled to save her from Wiens, sparking allegations of racial discrimination.
Despite the efforts of the Sherbini family and their lawyers, the prosecution stopped enquiry into manslaughter charges against the police officers and the charges brought up against the Attorney General were rejected for lack of evidence.
The family's lawyer, Hans Eberhard Shultz, is now calling on Germans to support the family in their quest for justice and campaign against racism, the paper said.
Schultz believes the investigations so far were not enough.
"This should be a concern of our democratic constitutional state, after the racist murder and its attendant circumstances were first brought to the attention of the official politics of this country after the massive protests in Egypt," Shultz told the Junge Welt on Friday.
The lawyer also suggested that the court had ignored a written threat by Wiens sent to the court during the previous hearing of the case.
In the letter Wiens said he cannot tolerate the fact that his "enemy" was getting closer to him despite his warnings.
The case also exposed the rampant Islamophobia in Germany.
According to Junge Welt, a recent study by the University of Muenster shows that about 58 percent of people in western Germany and 62 percent in the east have a negative attitude towards Muslims.
Karin Haller, spokesman for the High Court in Dresden, said that any decision on the new lawsuits would be postponed to next year.