Latin America
North America
Venezuela braces for rival protests amid Satanic US electricity war
Tens of thousands of Venezuelans are expected to take to the streets on Saturday as the nation continues to struggle with a major blackout that President Nicolas Maduro says is part of an "electric energy war" waged by the United States.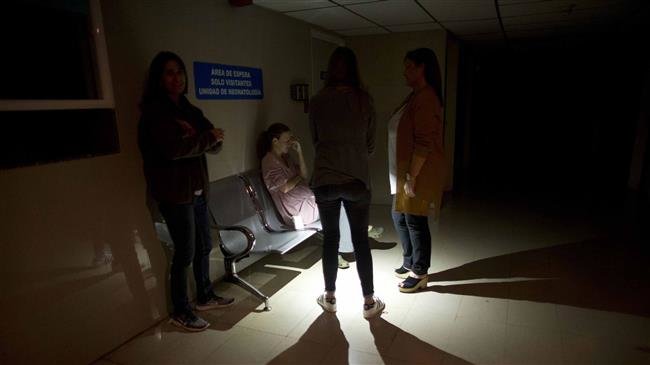 Energy Minister Luis Motta Domínguez has said a Thursday "attack" on the Guri Dam, a large hydroelectric facility in east Venezuela, caused the blackout which has affected virtually every part of the country.
Both supporters and opponents of Maduro were expected to hold rallies in the capital Caracas and other cities on Saturday.
The power outage has deepened a sense of isolation and decay among 31 million Venezuelans, who depend on the country's vast hydroelectric infrastructure for its domestic electricity supply.
Following the the cut, Maduro ordered schools and all government entities closed and told businesses not to open to facilitate efforts to restore power.
The Venezuelan president warned Friday that Washington had "declared electric energy war… against our people," but, "nothing and nobody will win over" the people of Venezuela.
Venezuela's Information Minister Jorge Rodríguez said "a cyber attack targeted the automatic control system at the hydroelectric power station."
The US, which has long been pushing to oust the elected government of Maduro, has repeatedly threatened military action against him if he refuses to step down in favor of Juan Guaido, the country's self-proclaimed president.
Washington recognizes Guaido as Venezuela's interim president and has imposed economic sanctions on the country. It has recently confiscated Venezuela's state oil assets based in the US to channel them to the opposition.
The elected government of Maduro has regarded US President Donald Trump's support for Guaido as an open indication of Washington's push for a coup in Venezuela.
Accusing Maduro's government of "inefficiency" over the power cut, Guiado has taken advantage of the crisis and called on his supporters to take to the streets against the president.
Venezuelan hospitals crippled
The power failure, which stopped subway service in Caracas, is also endangering patients in hospitals around the country and has cut people off from their families, friends and the outside world.
Many patients are facing danger, according to health advocates, who were particularly concerned about those who rely on respirators and the lack of air conditioning in several hospitals, which are needed to keep facilities cool in order to prevent the spread of bacteria.
"There are patients who are connected to machines," said Dr. Luz Ardila Suarez, who works at a hospital in Caracas. "And of course, there's no water."
According to health advocacy group, CODEVIDA, thousands of dialysis patients were going without treatment as a result of the outage.
"I'm desperate," said a mother who had been unable to buy food for her of three young children because she wasn't able to take money out of the bank due to the power cut.
"In response to the attack, the power station's operation was temporarily shut down, which led to interruptions in electricity supply," he added.
He also called for "A little bit of patience," on televised address early Thursday evening, saying service would be restored in a few hours.
By early Friday afternoon, some residents reported that power was returning to parts of Caracas. Traffic lights in several neighborhoods as well.
US masterminded blackout to 'destabilize Venezuela'
Venezuelan Defense Minister Vladimir Padrino Lopez said Friday that he was certain the US had masterminded the crippling power cut "to destabilize the Venezuelan people and the Venezuelan state."
"No one can be so naive to think this was the result of bad luck or chance," López said.
He said that the attack against the Guri hydroelectric plant had been "prepared, planned and well-defined" in Washington.
US Secretary of State Mike Pompeo, however, accused Maduro of "incompetence," saying the responsibility rested with his government.
"Maduro's policies bring nothing but darkness," Pompeo said. "No food. No medicine. Now, no power. Next, no Maduro."
Maduro however, wrote in a Twitter message that the "electricity war declared and directed by the imperialist United States against our people will be overcome!"
The US has already resorted to multiple desperate plots to provoke outrage among Venezuelans in an effort to facilitate a regime change in the oil-rich country.
Washington attempted to send "humanitarian" supplies into the country last month, a move that Russia warned was a cover to arm the opposition and instigate a "dangerous provocation" in Venezuela.
Russia warns the US against using "humanitarian aid" as a cover for arming Venezuela's opposition and launching military invasion against the country.
Caracas has shuttered borders with Brazil and Colombia to prevent the so-called aide from getting in. Guaido's supporters have been trying to break open the borders through violent clashes with Maduro's army.
Russia also said that the plan to use aid shipments as a cover allowed Washington to move special forces and military equipment "closer to Venezuelan territory" by causing tensions at the border.
US officials recently have doubled down on the possibility of military action, with National Security Adviser John Bolton going as far as warning the Venezuelan military to join Guaido and take his "amnesty" before they lose the chance.
The Western-backed opposition blames Maduro for an ailing economy, hyperinflation, power cuts, and shortages of basic items. Maduro says those economic difficulties are due to sanctions imposed by the US.