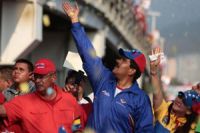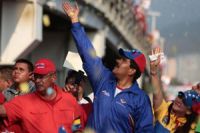 Venezuela has stepped up security and closed its borders ahead of Sunday's presidential elections after acting President Nicolas Maduro said a murder plot against him had been foiled.
According to AP, Interior Minister Nestor Reverol said "strict control" of movements is in affect along land border with Colombia and Brazil, and that the restriction would last until Monday night, one day after the election has been held.
Reverol said the measures were imposed after intelligence services found "elements that generate violence who hope to use our territory's border to create a climate of destabilization."
This comes as Maduro revealed last week that Salvadoran hitmen had entered Venezuela as part of an assassination plot against him backed by two former US officials and El Salvador's right-wing group.
After the announcement, Salvadoran President Mauricio Funes ordered an inquiry into whether right-wing lawmaker Roberto D'Aubuisson had partaken in the failed assassination plot.
In addition, Reverol reported that on the Election Day some 125,000 security forces would operate under a "special security and patrol plan" at more than 13,600 polling stations.