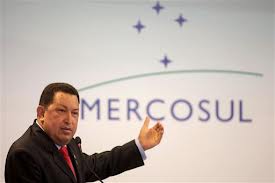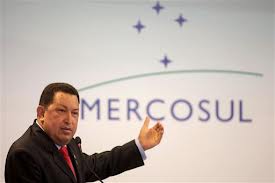 Venezuela was officially welcomed into the Mercosur trade bloc on Tuesday, giving that nation's leader Hugo Chavez a long-awaited political prize and strengthening links among the region's agricultural and energy powerhouses.
According to AP, the inclusion of Venezuela also deepens a political rift within the South American trade group. Paraguay, which long blocked Venezuela's entry, remains temporarily suspended from the bloc in response to the congressional ouster of that nation's president. "Venezuela's entry increases the potential of the bloc, giving it greater geopolitical and global economic dimensions," said Brazilian President Dilma Rousseff, noting that Venezuela's has one of the globe's largest proven oil reserves, adding energy might to the trade union. "Mercosur is beginning a phase, now we've expanded from Patagonia to the Caribbean." Chavez said Mercosur "is without a doubt the biggest engine that exists to preserve our independence and accelerate our overall development."
Rousseff hosted Argentina's President Cristina Fernandez and Uruguay's Jose Mujica along with Chavez for the one-day Mercosur meeting in Brasilia.
Venezuela had been an associate member of Mercosur, like Bolivia, Chile, Colombia and Peru. Chavez had been trying to get full status for years, but was blocked because Paraguay's legislature wouldn't vote to allow Venezuela in.
The full members of Mercosur have veto rights over decisions the bloc makes.
Paraguay's former leader Fernando Lugo was impeached by the country's Congress in June in a fast-track trial triggered by a land eviction that killed 17 people in clashes between police and landless peasants.