Latin America
Venezuela leader warns opposition against violence at planned rallies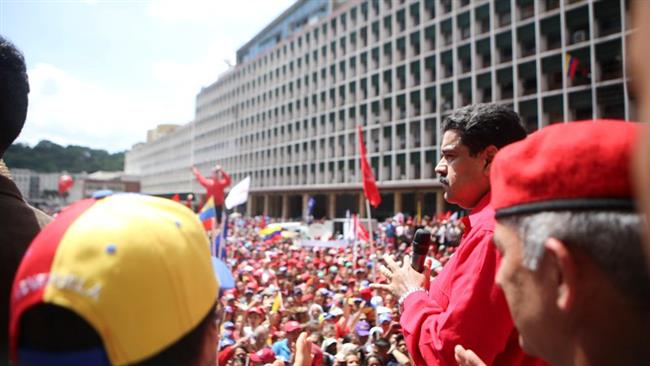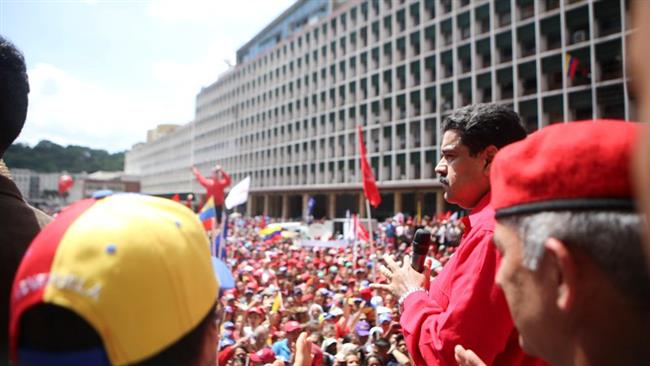 Venezuelan President Nicolas Maduro has warned that opposition leaders could face imprisonment if they turn to violence during the upcoming anti-government protests.
The opposition is calling on sympathizers from across the country to march in the capital, Caracas, on Thursday to push for a recall referendum against Maduro.
Addressing hundreds of his supporters at an early counter-demonstration in the capital on Tuesday, Maduro called Thursday's rally a plot to stir up violence and set the stage for a coup.
"We must defeat the coup d'etat without impunity. Whoever is involved in the coup, whoever calls for violence has to go to jail. Cry or scream, they will go to jail, fascists," he told the crowd.
Maduro accused the United States of plotting against leftist governments in Latin America.
"The threat is coming directly from American imperialism," he said.
Maduro also said security forces arrested several opposition activists on charges of plotting violence during the anti-government rally scheduled for Thursday.
"We've captured a group of people carrying important equipment, C4 explosives. We're trying to capture a number of them in real time," he added.
One opposition figure, Yon Goicoechea, was arrested on Monday on charges of possessing explosives he allegedly planned to detonate at the upcoming protests.
Venezuelan intelligence agents on Tuesday raided offices of the opposition Popular Will party and detained street activist Carlos Melo, opposition parties said.
Also on Saturday, security forces took Daniel Ceballos, a former opposition mayor accused of fomenting opposition protests, to prison from house arrest in Caracas.
The protests are the first since electoral authorities indicated it was too late to organize a recall vote this year — infuriating the opposition, which is trying to hold a referendum before January 10, four years into the president's six-year term.
In the event of a successful recall vote, the power would be passed to Vice President Aristobulo Isturiz.
Since 2014, Venezuela has been grappling with protests against Maduro who is under fire by his critics for his handling of the economy.
The opposition blames Maduro's Socialist government for the triple-digit inflation as well as shortages of food, medicine and basic goods that have triggered violence and looting.
The president, however, blames the problems on an "economic war" waged by the opposition with a helping hand from Washington aimed at bringing about a coup d'état in the oil-rich country.