General
Venezuela says Colombia jeopardizes regional peace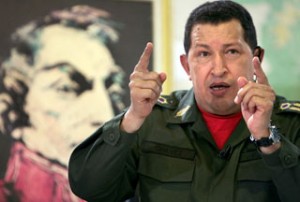 Venezuela blasts neighboring Colombia over what it terms as Bogota's negligence to maintain peace in the Latin American region.
Caracas "voices its indignation at the irresponsibility with which the Colombian government has reduced to null efforts undertaken to build a mutually beneficial relationship between our people, and clearly endangers peace and stability in the region," the Foreign Affairs Ministry said in a statement on Thursday, AFP reported.
"We respond to each of the Colombian government's attacks with very firm measures."
The comments came on the heels of the severance of ties by Venezuelan President Hugo Chavez.
Colombia claims that Venezuela supplied guerrillas from the Revolutionary Armed Forces of Colombia, FARC, with grenade launchers. Hugo Chavez, in response, has recalled his ambassador from Bogota.
Tensions began to heighten between the two neighbors after Bogota allowed US forces to conduct anti-drug missions from bases inside Colombia.
The move was condemned by Colombia's neighbors, including Venezuela, with Chavez alleging that "a Yankee military force" was planning to invade the country from Colombia.