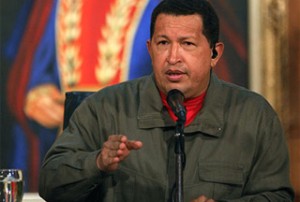 Venezuelan President Hugo Chavez has called on Washington to send medication to the quake-stricken Haiti rather than troops.
"Obama, send vaccinations, kid, send vaccinations," Reuters quoted Chavez as calling on his American counterpart, Barack Obama, during his weekly television program.
"Each soldier that you send there should carry a medical kit instead of hand grenades and machine guns," he said.
Following the magnitude-7.0 tremor that rocked the Caribbean state on January 12, the Obama administration sent the nation a contingent of 13,000 American troops who now control the airport and the presidential palace.
"They have done this without consulting the United Nations, or anyone, or the Organization of American States," Chavez pointed out.
Chavez's remarks come after the leftist Latin American leader accused the United States of using the earthquake in Haiti as a pretext for an "imperial occupation" of the devastated Caribbean nation.
He also poked criticism at the performance of US doctors and relief workers in Haiti, saying American doctors had been unable to find patients and had to request referrals from Cuban and Venezuelan aid personnel.
"The Yankees will not go into the debris. They will not go into the neighborhoods where there are corpses, many still buried. They will not go there because they are afraid."
Meanwhile, a Venezuelan broadcast on Saturday showed footage of allegedly American troops as they were surrounding the Venezuelan Embassy in Port-au-Prince.
A number of other Latin American leaders have also expressed doubt over the usefulness of the US deployment amid repeated calls from Haitian authorities and people for urgent food and medicine aid shipment.
Some 150,000 people have been confirmed dead so far while up to 50,000 others are feared to have lost their lives in the quake — the worst to rock the country in 250 years.