Iran
Latin America
Middle East
Qasem Suleimani
Venezuelan FM Condemns US "Treacherous" Assassination of General Soleimani
Venezuelan Foreign Minister Jorge Alberto Arreaza Montserrat deplored US assassination of former IRGC Quds Force Commander Lieutenant General Qassem Soleimani as a "treacherous" act, blaming Washington for instability in the region.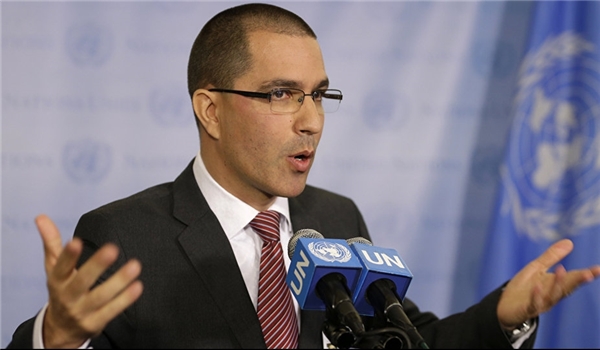 "The US government assassinated General Soleimani in a treacherous act," Montserrat said in a press conference at the Venezuelan embassy in Tehran on Tuesday.
He also appreciated efforts made by General Soleimani in fighting terrorist groups.
Asked about Iran's retaliatory missile strikes against the US base in Iraq in response to the assassination of General Soleimani, Montserrat said that Iran should defend its sovereignty and international peace.
He also blasted the US for plots and acts which increase instability in the region.
Lieutenant General Qassem Soleimani was assassinated in a US drone strike on Baghdad International Airport in Iraq on January 3.
The airstrike also martyred Abu Mahdi al-Muhandis, deputy commander of Iraq's Popular Mobilization Forces (PMF), or Hashad al-Shaabi. The two were martyred in an American airstrike that targeted their vehicle on the road to the airport.
Five Iranian and five Iraqi militaries were martyred by missiles fired by the US drone at Baghdad International Airport.
On January 8, the IRGC Aerospace Force started heavy ballistic missile attacks on US Ein Al-Assad airbase in Southwestern Iraq near the border with Syria and a US operated airbase in Erbil in retaliation for the US assassination of General Soleimani.
Ein Al-Assad is an airbase with a 4km runway at 188m altitude from sea levels, which is the main and the largest US airbase in Iraq. Early reports said the radar systems and missile defense shields in Ein Al-Assad failed to operate and intercept the Iranian missiles. Unofficial reports said the US army's central radar systems at Ein Al-Assad had been jammed by electronic warfare.
The second IRGC reprisal attack targeted a US military base near Erbil airport in Iraqi Kurdistan Region in the second leg of "Martyr Soleimani" reprisal operation.
Iraq said the attacks had not taken any toll from its army men stationed at these two bases. The US army had blocked entrance into Ein Al-Assad to everyone, including the Iraqi army.
It was the first direct attack on the US army ever since world war two.
The IRGC officials said none of the missiles had been intercepted.