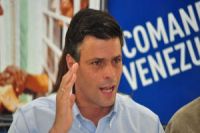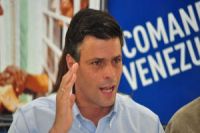 The Venezuelan opposition leader has surrendered to police as supporters and opponents of the government hold rival rallies in the capital Caracas.
On Tuesday, Leopoldo Lopez handed himself in to security forces a week after the government ordered his arrest for stirring deadly violence.
He is also accused of being behind a plot to overthrow President Nicolas Maduro's government.
Addressing a crowd of some 5,000 of his supporters before surrendering himself to the authorities, Lopez said he did not fear going to prison for his beliefs.
"We've got nothing to hide," Lopez said, adding that it is worth going to jail if it "awakens Venezuela".
Lopez had earlier called on his supporters to join him in a march on the Interior Ministry building to deliver a petition.
Government supporters also held pro-Maduro rallies, a day after the government ordered three US Embassy staff to leave the country within 48 hours.
Caracas said the US diplomats were expelled due to their attempts to infiltrate Venezuelan universities and overthrow the 10-month-old administration of Maduro.
On February 12, student protesters and several opposition politicians converged in downtown Caracas to denounce the president's handling of Venezuela's ailing economy.
Clashes between the government opponents and security forces left at least three people dead and nearly two dozen others injured. Moreover, some 100 people were arrested.
Last week's protests were the biggest since Maduro was elected nearly a year ago following the death of his mentor Hugo Chavez.
Maduro, who promised to tighten security across the country after the recent clashes, has frequently accused Washington of trying to regain dominance over the South American country by siding with Lopez and student protesters.