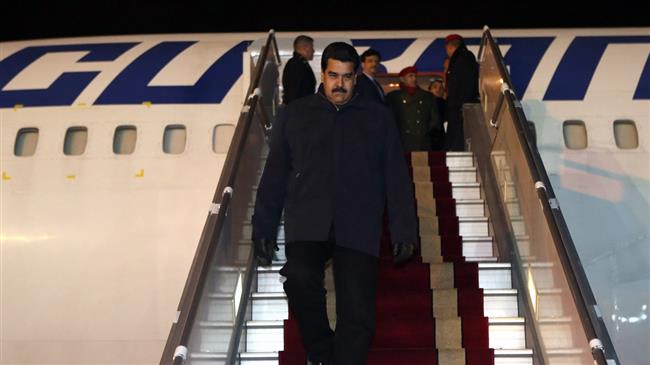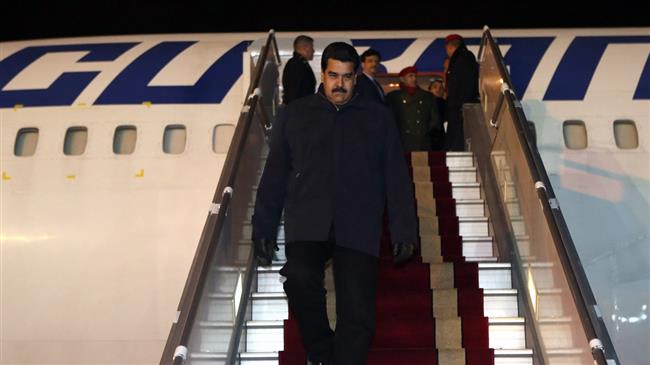 Venezuelan President Nicolas Maduro has arrived in Tehran for a day-long visit to hold talks with senior Iranian authorities.
Maduro was officially recieved by his Iranian counterpart Hassan Rouhani on Saturday. Iranian Foreign Minister Mohammad Javad Zarif and Minister of Petroleum Bijan Namdar Zangeneh were also present at the ceremony.
Upon arrival Friday at Tehran International Mehrabad Airport, the president of oil-rich Venezuela was welcomed by Iranian Deputy Foreign Minister for European and American Affairs Majid Takht-e Ravanchi and Minister of Industry, Mines and Trade Mohammad Reza Nematzadeh .
Maduro has already met with Energy Minister Hamid Chitchian and is expected to sit down with his Iranian opposite number on issues of mutual interest, mainly the plunging oil prices.
Following his travel to Tehran, the Venezuelan president is expected to visit more member states of the Petroleum Exporting Countries (OPEC), including Saudi Arabia, to discuss the oil market slump.
Oil prices have plunged about 50 percent since June last year over increased supplies by certain countries such as Saudi Arabia, the largest OPEC producer, and a lackluster global economic growth.
OPEC, which pumps about 40 percent of the world's oil, has so far refrained from cutting its production to balance the market due to opposition from Saudi Arabia.
Iran has criticized Saudi Arabia for its lack of cooperation in preventing the fall in oil prices. Riyadh has said that OPEC will not cut oil production even if oil prices fall to USD 20 a barrel.
On December 29, the Venezuelan president blamed the United States for the plunge in crude prices, accusing it of waging a "war" against Russia and his South American nation in the global oil market.
Venezuela, a member state of the OPEC, is heavily dependent on oil revenues, which accounts for 96 percent of its hard-currency income.