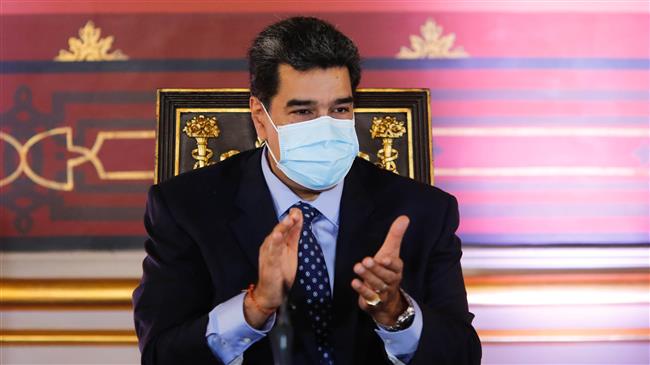 Venezuelan President Nicolas Maduro has announced plans for the improvement of gasoline output and distribution in the country, as the second of three Iranian tankers carrying fuel entered the South American country's waters, ignoring unilateral United States sanctions on Venezuela.
As part of the new plan, which Maduro said would be detailed in the coming days, Venezuelans would be limited to filling the tanks of their vehicles on certain days depending on their license plate numbers.
Maduro censured the US sanctions on Venezuela's oil industry as well as its fuel imports and exports, which have resulted in long lines of drivers waiting for gasoline at state-run oil company PDVSA's stations.
The Venezuelan president also announced on Wednesday the revivification of oil refineries with the fuel imports from Iran and collaboration with the country's specialists in the field of oil industry despite Washington's sanctions on both countries.
"The gasoline we have purchased from abroad for October is arriving, and we are making purchases for later months and this is despite what the American government says," Maduro said.
"This is as we finish up recovering national refineries so that they can reach the point where we are at now, so as to produce what we need," he added. "Venezuela needs to produce all it consumes."
The first tanker of a three-vessel Iranian flotilla carrying much-needed fuel for Venezuela entered the waters of the South American country on Monday. The Iran-flagged tanker Forest, which was transporting some 270,000 barrels of fuel, entered Venezuela's exclusive economic zone without trouble.
Following the same route as the Forest, the second vessel, Fortune, reached the country's exclusive economic zone at 1:45 a.m. local time (0545 GMT) on Thursday and docked at Venezuela's El Palito port to discharge fuel.
The third vessel in the flotilla, the Faxon, is due to arrive later this week to complete a delivery of some 820,000 barrels of Iranian gasoline and other fuels to the PDVSA, according to Refinitiv Eikon tanker tracking data and sources.
Five Iranian vessels had made a previous fuel delivery to Venezuela between May and June.
Venezuela is the owner of the world's largest oil reserves, but its oil industry is hobbled by US sanctions. Maduro said a day earlier that the US sanctions had caused Venezuela's oil revenue to plunge 99 percent over the last six years.
With most ship owners and oil traders shunning business with Venezuela for fear of the sanctions, Iran has emerged as the only country helping Caracas bring its refineries back to service and cope with an acute fuel shortage.
Iran's fuel shipments have drawn the ire of the US.