Latin America
World News
Venezuela's top court blocks Guaido's bid to rejoin TIAR regional defense treaty
Venezuela's top court has rejected a decision by the opposition-controlled legislature to rejoin a regional military treaty, saying the move could provide a legal framework for foreign military intervention in the Latin American country.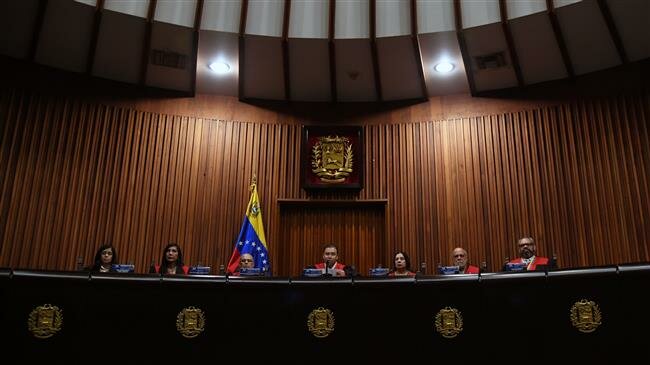 The Supreme Tribunal of Justice (TSJ) in Venezuela said on Friday that the National Assembly's decision to rejoin the Inter-American Treaty of Reciprocal Assistance (TIAR) had no legal basis.
"The court rules the decision of the legislature to rejoin the Inter-American Treaty on Reciprocal Assistance is null and does not have any legal force as it threatens the rule of law in the country," judge Juan Jose Mendoza said at a session broadcast on Twitter.
Any attempts to use this treaty "should be considered as a hostile action toward national sovereignty," Mendoza added.
The Venezuelan parliament controlled by the opposition approved on Tuesday the proposal to rejoin the TIAR, which was signed in 1947 in Brazil's Rio de Janeiro by 23 countries, including the United States.
The treaty stipulates that an attack against one signatory is considered as an attack against all other signatories as well.
US pushing for military intervention in Venezuela: UN envoyVenezuela says the United States is pushing for military intervention in the Latin American country by undermining the negotiations between Caracas and the opposition.
President Nicolas Maduro's predecessor, late president Hugo Chavez, withdrew the country from the defense pact in 2012. Ecuador, Bolivia and Nicaragua also walked out of the treaty.
Opposition leader Juan Guaido, who oversees the defunct National Assembly, claimed on Tuesday that rejoining the treaty would allow Caracas to establish "international alliances" to "protect and defend the people and Venezuelan sovereignty."
Venezuela plunged into political crisis in January, when US-backed Guaido abruptly proclaimed himself "interim president." The elected government of Maduro rejected that self-proclamation.
After leading an unsuccessful coup attempt and nationwide protests, Guaido has agreed to negotiate a deal with Maduro and end the political crisis in the country.
Venezuela's Maduro 'optimistic' about talks with opp.Venezuelan President Nicolas Maduro expresses optimism about renewed talks between his government and the opposition.
The administration of US President Donald Trump has levied several rounds of sanctions against Venezuela to oust Maduro and replace him with Guaido.
Washington has confiscated Venezuela's state oil assets based in the US to channel them to Guaido.
Guaido orchestrated a failed coup against the government on April 30 with backing from Washington. Maduro's government, however, has not proceeded to arrest Guaido despite the coup attempt.