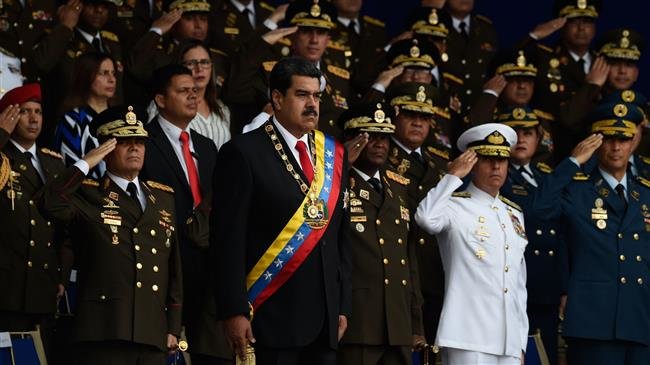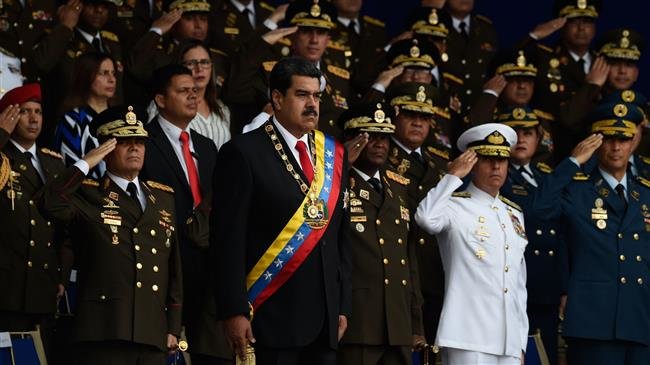 Venezuela's Supreme Court has imprisoned nine members of the country's armed forces for participation in a coup plot o overthrow President Nicolas Maduro in 2014.
The jail sentences were handed down by the top Venezuelan court on Wednesday and ranged between five to eight years.
The former military men were put behind bars for "preparing in 2014 an insurrectional and destabilizing movement, called Operation Jericho, against the government," according to a statement from the Venezuelan court.
The ruling was made after multiple appeals from the nine defendants had been rejected and dismissed by the Latin American country's lower courts and a court martial.
The convicted officers are all reportedly linked to prominent opposition politicians as well as the US government. Among them were General Oswaldo Hernandez, retired Colonel Jose Delgado, Andres Thomas Martinez, and Captain Acacio Moreno Mora.
Over 30 Venezuelan military officials were arrested in connection with "Operation Jericho" during March and April 2014, which was foiled after uninvolved military officers tipped off authorities.
General Hernandez had also been involved in another coup in February 2015, known as the "blue coup," a reference to the color of Venezuela's air force uniform.
That putsch, described by Maduro as "foiled," included using a warplane to bomb multiple "strategic" targets in Caracas such as the Miraflores presidential palace, various ministry buildings, and a television network compound.
The socialist Venezuelan leader said that the coup attempt had been supported by sectors of the opposition and financed by the US government.
Earlier this month, Maduro accused Washington of hatching a plot to invade his country, saying US national security adviser John Bolton was leading the plan.
Venezuelan President Nicolas Maduro accuses the United States of hatching plot to invade the South American nation.
US President Donald Trump said last year that he would not "rule out" a military option for Venezuela to solve the ongoing crisis in the country.
Washington has also intensified unilateral sanctions on the socialist country, announcing bans on Maduro's wife and several of his top allies to further increase pressure on the government.
Caracas has been facing a series of US embargoes targeting its economy and political authorities since 2014 under the pretext of alleged human rights abuses and threats to US national security.
In August, Maduro survived an assassination attempt during a military parade in Caracas. He was unharmed while seven Venezuelan soldiers sustained injuries in the incident.
Venezuela's president has repeatedly accused the US and Colombia, particularly Colombian ex-president Juan Manuel Santos, of having a role in the attack. Bogota has denied any involvement in the assassination attempt on Maduro.