Syria
Vice-President: Syria will not abandon its stance on Iran and the resistance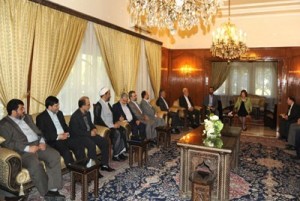 Syrian Vice-President Najah al-Attar underlined that Syria has refused to submit to the demands to cut off its ties with Iran and stop its support to the resistance, affirming that Syria will not abandon this stance.
Al-Attar was speaking came during her meeting with a delegation of Iranian intellectuals who participated in a conference on "The Intellectuals' Role in Consolidating the Syrian People's Steadfastness" held over the past two days in Damascus.
She highlighted the deep historical, cultural and human ties binding the Syrian and Iranian peoples, asserting the important role intellectuals and writers could play in confronting the aggression on Syria.
Al-Attar applauded the Syrian and Iranian intellectuals who mobilized all their capabilities to convey the real image of what is going on in Syria in the framework of confronting the media involved in the shedding of the Syrian people's blood.
She pointed out that the media front of the war waged against Syria aims through disseminating subversive ideas at undermining the Arab and Islamic culture and spreading moral disintegration, referring also to the front of terrorism carried out by foreign-backed mercenaries.
The Vice-President underscored in the meeting the great achievements made by the Syrian army in defense of the homeland and those made at the cultural and education levels, noting that the intellectuals and writers who carry a sublime message are defending Syria because of the cultural values it embodies.
Al-Attar condemned the Arab League as being part of the imperialist conspiracy hatched against Syria, which she said has failed because of the great unity binding the Syrian people, army and leadership.
Members of the Iranian delegation, in turn, stressed that the conference was rich in terms of the proposals and views raised, describing the Syrian people's steadfastness as "legendary".
They considered that the Syrians' steadfastness has deepened the concept of resistance and added new meanings to it in the face of the worst of wars carried out by extremists of various inclinations.