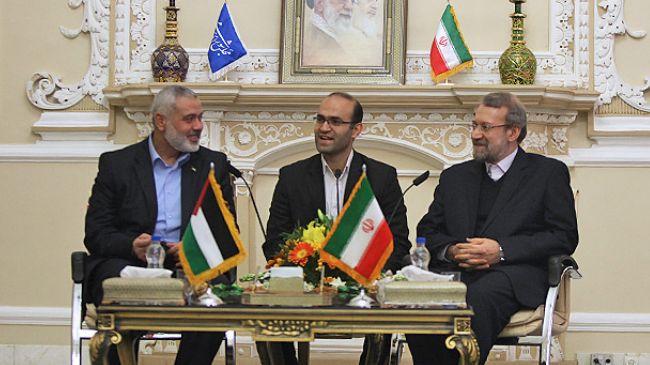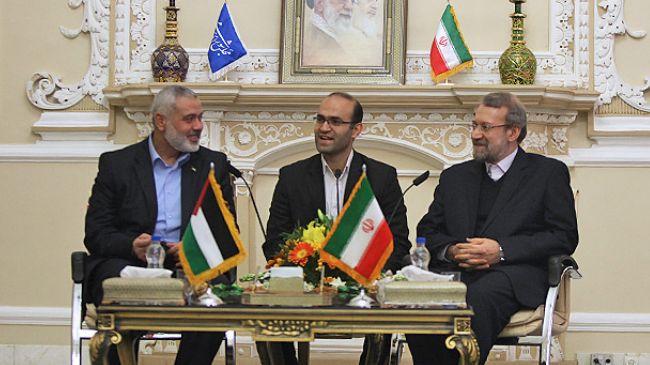 Iran's Majlis Speaker Ali Larijani pledges the unwavering and all-out support of Iranians for the oppressed nation of Palestine, stressing that victory is close.
"Iran is still standing and will continue to stand by the oppressed Palestinian nation," Larijani said Sunday in a meeting with Hamas leader Ismail Haniyeh, who is on a two-day visit in Tehran as the head of a high-ranking delegation.
Pointing to the wave of Islamic Awakening in the region and its impact on the Palestinian cause, Iran's Majlis Speaker said, "The Zionist regime [of Israel] has been severely isolated with the new developments in the region and fears the outlook of current [regional] developments."
Israel occupied East al-Quds and the West Bank in 1967 and later annexed the territories in a move not recognized by the international community. The United Nations and the European Union consider the settlements built on either region illegal under international law.
Zionist Occupation Israel, however, has claimed all of al-Quds as its "eternal and indivisible" capital.
Tel Aviv has also been imposing a land and sea blockade on the West Bank since 2007. It controls Gazan airspace and territorial waters and restricts the movement of people or goods in or out of Gaza.
The Zionist Occupation Israeli military, meanwhile, frequently bombs the besieged strip, claiming that the acts of aggression are conducted for defensive purposes.