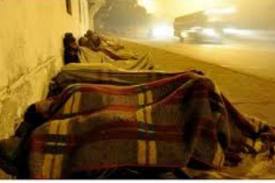 A seasonal enemy; an Annual feature of cold waves and the beginning of more misery for India's homeless, shivering out in the harsh winter; a heartbreaking scene to see many of them sleeping on pavements. The capital New Delhi is home to thousands of homeless who die every year without an identity. Several NGO's say the number of homeless continues to swell with increasing migrant population.
According to a new report, titled 'Homeless Survey-2010', conducted by the United Nations Development Programme; New Delhi has around 56000 people living without any shade or shelter and Most of them are unable to obtain access to pensions, ration cards, justice and basic health care. But Independent surveys and findings by several NGO's and human rights activists while contradicting the report put the numbers to be around 100 thousand or more.
The capital has around 64 permanent night shelters often badly managed and not enough to accommodate all and as the night approaches it's a nightmare for us say many of these homeless. Homeless people sleeping on roadsides are far more vulnerable to accidents theft and brutality. Extreme cold, pollution and exposure to the weather also make people physically sick especially Women and children.
Experts say administration has done very little to build a comprehensive policy on urban homelessness, and there is a need of collective effort by the government, NGOs, and the civil society to ensure that everyone has a right to shelter.