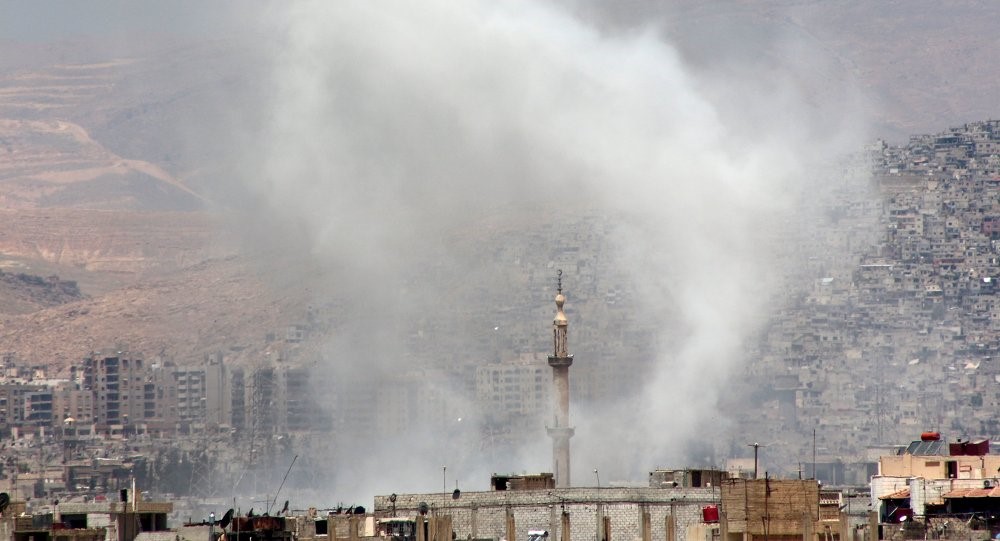 Terrorists Affiliated to Syrian al Qaeda branch Nusra Front used toxic gas to halt the Syrian Army's advance in Eastern Ghouta after the government troops managed to reclaim territories from the militants at the end of several-days-long battles, SANA reports.
Syrian Army backed by Hezbollah fighters resume attack on rebels in rural Damascus.
Two days after repelling the Faylaq Al-Rahman offensive in the East Ghouta region of Greater Damascus, the Syrian Republican Guard, backed by Hezbollah, resumed their offensive at Al-Muhammadiyah and the Jisreen Farms.
The 102nd Brigade of Syrian Republican Guard and Hezbollah reportedly broke-through Faylaq Al-Rahman's front-line defenses in the Al-Muhammadiyah area, reaching the strategic Arab Houses after a violent battle with the extremist rebels.
Following their advance at Al-Muhammadiyah, the Syrian Armed Forces and Hezbollah made another series of gains at the Jisreen Farms, killing a large number of enemy combatants from Jaysh Al-Fustat and Faylaq Al-Rahman, ABNA reports
Heavy clashes are still ongoing tonight, as the Syrian Armed Forces and Hezbollah continue their advance in the East Ghouta's farming region.