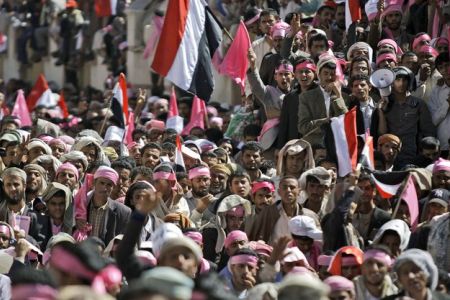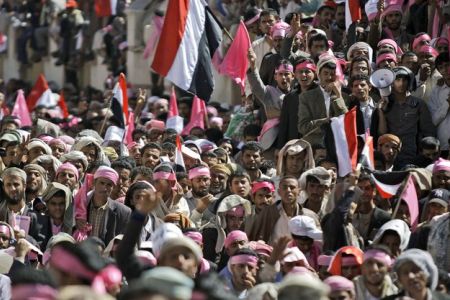 Yemeni protesters have again taken to the streets in the capital Sanaa and called for the fall of the Ali Abdullah Saleh's regime. At least one protester was killed, and several others injured in the anti-government demonstrations.
The witnesses said government forces opened live fire as demonstrators were making their way towards the vice presidents house Abdu Rebih Mansour.
Demonstrators have rejected any initiatives, which they claim have only dragged the country into prolong crisis and opened doors for America and Saudi Arabia to establish firm grounds in the country.
Hours after the protest was announced by ?, the government deployed military forces across Sanaa and blocked the main entries to the capital in an attempt to disrupt the mass protest.
This attempt however was unsuccessful as protesters came out in force was estimated to be in the millions, stressing that this revolution will not be intimidated by Saleh's military might.
The Tribal alliance of Yemen have also called on other tribal leaders to join the protest so that more pressure can be put on the government and the revolutions demands can be reached.
More Anti-government protests are said to take place soon, as anti-regime protesters have announced they will not back down despite US and Saudi intervention, which they say has propped up Saleh and his regime.
Chanting Anti-US and Saudi Slogans, protesters made it clear today that they want no foreign intervention and no peace initiative which will jeopardize their revolution. They stressed that they would not back down until the fall of the regime and the prosecution of Saleh's family.