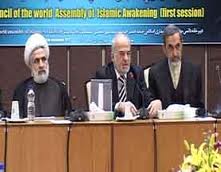 Some 25 prominent figures and thinkers from 17 Islamic countries took part in a two-day event in Tehran. They aimed at creating more solidarity among Muslim countries on social and political issues. The gathering was titled the first session of the central council of the world assembly of Islamic awakening. It came to an end with a final statement stressing further unity to support Islamic movements which help revive the dignity of Muslim nations.
Ali-Akbar Velayati / Advisor to the Leader of Islamic Ummah and Oppressed People Imam Sayyed Ali Khamenei
In this session, we obliged the secretariat to compile a statute for the assembly according to the goals and ratifications. We also decided to hold a general assembly sessions at least every other year. We will form corresponding groups and dispatch them to observe the issues of Muslims worldwide and report back to the coordination council.
The secretariat of the Assembly says that it needs to speed up efforts to organize itself as an international Islamic body to boost interaction among its members especially after the latest victory of the Libyan revolution and the popular elections in Tunisia.
Ibrahim al-Ja'afari / Former Iraqi Prime Minister
We don't see any problem with the Islamic world speaking with a single voice. We have many things in common. Our views are very close on issues such foreign intervention, national unity and independence from foreign powers. We also face common dangers such as zionism.
The world assembly of Islamic awakening introduced itself two months ago in its first international conference in Tehran with the presence of the Leader of the Islamic revolution of Iran and 700 delegates from 80 countries. The Leader of Islamic Ummah and Oppressed People Imam Sayyed Ali Khamenei was the first political figure in the Muslim world to regard Islam as the main drive behind the wave of popular uprisings in the Middle East and Northern Africa which have since led to key developments in the political landscape of the region.
In six months the assembly will hold second session to present statute to the members. Their aim is to create more solidarity among Islamic movements and to help them speak with a single voice and make sure their voice would be heard.