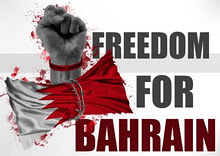 These three men are facing the death penalty in Bahrain.
Ali Altaweel, Ali Alsankis and Adbul Aziz were sentenced by a military court in April of this year. They are accused of killing two policemen, their lawyers say that no DNA or fingerprint evidence exists to link them to the crime.
This meeting in the British House of Lords was held to highlight the injustices being faced by criminal suspects in Bahrain.
There have been concerns for some time over the way that anti government protesters are being prosecuted in the country.
Human rights groups believe that suspects are made to confess to crimes under torture. They're tried by military rather than civilian courts, often behind closed doors. And they are refused adequate time to prepare their defence with a lawyer.
The threat of death made to convicted criminals has been criticised by governments and charities.
A British Foreign Office spokesperson said the death sentence "undermines human dignity", and that any miscarriages of justice are irreversible and irreparable.
But despite the British Government's condemnation of violence both by Bahraini forces and protesters, they have maintained a good relationship with the country.
In recent months, the Crown Prince of Bahrain has visited Prime Minister David Cameron at his Downing Street home.
And Bahraini delegates attended an arms trade fair in London which was backed by the British Government.
What Bahraini justice campaigners want is the same global condemnation of Bahrain that was given to countries like Libya and Egypt. But they believe that with American and Saudi interests protecting it, Bahrain will remain untouched by the West.