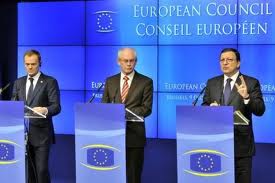 At a historic make-or-break summit in Brussels, the EU heads of state and government failed to reach an agreement on a plan to save the euro. Only 26 out of the 27 EU member states backed a Franco-German proposal calling for greater Brussels surveillance of the national budgets and more automatic sanctions for non-compliant countries. The only country opposing this pact was Britain.
After the meeting, German chancellor Angela Merkel also struck a critical tone about the UK's decision not to participate. Britain pulled out because the proposal failed to protect its financial sector from EU regulations.
Observers say the move will isolate Britain. They also point out that UK's decision has created a fundamental rift inside of the EU, threatening to generate a two-speed Europe. Finally, analysts note that this new pact raises serious sovereignty issues. But at the same time, there is wide acknowledgement that action is needed.
Experts warn that postponing decisive action could have dire consequences. It could lead to a depression, mass unemployment and social unrest.
Meanwhile, speculation continues to grow that a break-up of the Euro zone or even a demise of the euro currency is possible. This uncertainty has global implications.
The EU is the biggest trading partner for emerging giants. China's export volumes have already gone down due to the crisis in Europe. America is also affected – US banks hold European debt.