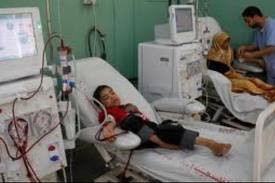 A health crisis is in the making in the Gaza Strip as hospitals and clinics have completely ran out of fuel for their emergency backup generators. Power outage of up to 12 hours a day have forced hospitals to run on emergency generators which consume twenty thousand liters of fuel a day.
Medicines for chronically ill patients as well as vaccines and blood plasma risk being spoiled due to power outages because they require refrigeration at all times which endanger many lives.
Patients on life support and premature children in addition to those who require kidney dialysis are at the highest risk.
After years of zionist israeli blockade the vulnerable patients of Gaza are still paying the price of international apathy towards their plight. Analysts say that Palestinians should not depend on official bodies of the international community.
zionist israel used to supply about 70 percent of Gaza's power and Egypt provided only five percent, with the remainder from Gaza' sole power plant which is partially working.
While Gaza health officials are warning of an imminent health crisis in the enclave, Gazans are anxiously waiting to see what measures the int'l community would adopt to put an end to this condition.