Videos
Video-Greeks voice anger at Zio Ehud Barak visit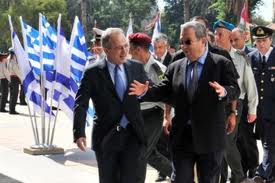 Ehud Barak is the fourth israeli official to visit Athens since former US Federal Reserve banker Loukas Papademos was appointed prime minister of Greece two months ago.
Greece and israel have been bolstering relations concurrently with the mounting U.S. and EU pressure in the Middle East and Iran in recent months and the increasing potentiality of a military crisis in the region.
The Greek Ship-to-Gaza organization on Monday took legal action against Barak, declaring him a war criminal who should be arrested by Greek courts when visiting the country.
They say Barak was responsible for the killing of more than 1400 Palestinians during operation Cast Lead in Gaza in 2008, as well as the attack of israeli forces on the freedom flotilla that headed towards Gaza in May 2010, resulting in the death of 9 Turkish activists.
Six solidarity organizations and groups gathered outside the Greek parliament to voice their reaction against Barak's visit and the demonization of countries like Iran.
Apart from the reported involvement of israel in the privatization of Hellenic Defense Systems, a state-run manufacturing company of the arms industry, which includes the co-production of aircraft missile bombs like the Spice 2000, mutual energy agreements have also been in discussion, concerning petroleum reserves in Cyprus and a natural gas deal between israel and Greece.
According to political analysts here, Greece is trying to stall the potential implementation of the embargo on Iranian oil imports in the EU to safeguard current agreements while in search of alternative suppliers.
While the Greek minister of Defense Dimitris Avramopoulos tells reporters that a military cooperation between the two countries only aims to secure peace in the Middle East and does not run against any particular country, observers here say that such statements are paradoxical, given, on the one hand, the geopolitical complications in the Middle East and on the other, the fact that Greece has so far agreed to every industrial and military invitation israel has posed.