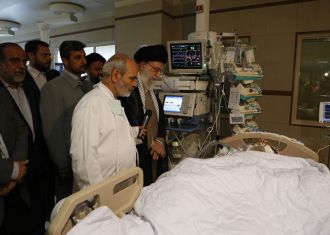 The Leader of Islamic Ummah and Oppressed People Imam Seyyed Ali Khamenei visited Assembly of Experts Chairman Ayatollah Mohammad Reza Mahdavi Kani in Tehran's Bahman Hospital on Thursday.

Ayatollah Mahdavi Kani has been hospitalized due to a heart attack since Wednesday.
After being taken to the hospital, he fell into a coma.
Some Iranian officials, including President Hassan Rouhani, head of the Supreme Leader's office Hojjatoleslam Mohammad Mohammadi Golpayegani, Tehran Mayor Mohammad Baqer Qalibaf, advisor to the Supreme Leader Ali Akbar Nategh-Nouri, Iranian Armed Forces Commander Ataollah Salehi visited Ayatollah Mahdavi Kani on the same day.