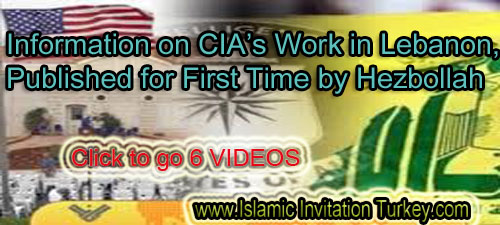 6 VIDEOS
Hezbollah published for the first time Friday information about the CIA intelligencers in Lebanon, their targets and goals, their methods of working, and their names and fake names.
In one of the reports published Friday night on Al-Manar TV, Hezbollah revealed the current CIA chief in Lebanon is US intelligence officer, Daniel Patrick Mcfeely, and reported the names of some officers who were assigned with particular tasks in Lebanon.
The Reports also included information on the about the US-Israeli cooperation in this field, as well as the corruption in the CIA's financial system.

The battle between the resistance in Lebanon and the CIA, and the latest accomplishments of the resistance in this field:

Who are the current and former chiefs of the CIA in Lebanon? How much officers work in this station? What are their names? Information revealed by the resistance for the first time:

How are the spies controlled? How are they operated? How does the CIA Administration deal with them? More information from Hezbollah:

Report on the financial corruption in the CIA:

What are the goals and targets of the CIA in Lebanon? Information in the following report: