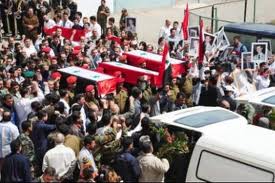 Syria's ministry of information has organized a field visit for representatives and reporters of international, Arab and local news media to the military hospital of Homs.
The media delegation attended a funeral procession for 17 army and security personnel killed by armed groups in separate parts of the country. Among them were the six Syrian pilots who were killed in an ambush last week. The funeral proceeded to their resting places in their towns and villages.
The families expressed pride at their sons' martyrdom, stressing that they would sacrifice anything for their country.
Earlier, the general leadership of the Syrian Arab army issued a statement saying that last Thursday, armed men killed ten security forces including six elite Syrian pilots.
The delegation also visited the wounded personnel. Some of them were severely injured as they were shot in the neck and chest. They spoke about how they were attacked.
Syria has been wracked by violent unrest since mid-March. Up till now, more than 1300 army and security men were killed by armed terrorist groups.
Homs has been the most violent city in Syria since the unrest began. Violence has forced many to flee due to the fatal attacks of the armed groups on army and security men, as well as the civilians.