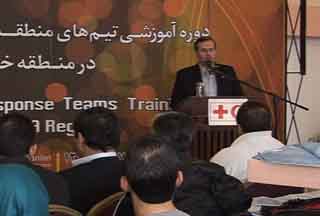 The international Federation "Regional Disaster Response Team" (RDRT) training sessions have kicked off in Iran to improve the disaster response skills and knowledge for the regions of the Middle East and North Africa known as MENA.
The event has been organized by the International Federation of Red Cross and Red Crescent Societies jointly with the Iranian Red Crescent society.
About 80 experienced staff from Lebanon, Qatar, Yemen, Iraq, Palestine, Syria and Iran are participating in the training course.
During the weeklong Regional Disaster Response Team known as "RDRT" training course, such issues as Disaster Preparedness and Response, Assessment, Shelter Provision, Recovery, Coordination, Water and Sanitation, Health, First Aid and Logistics will be discussed. Iran is hosting the RDRT training for the first time.
The Red Crescent Society of the Islamic Republic of Iran, as the host country, has so far sent 6000 tones of humanitarian aid supplies to Somalia as part of an initiative to supply Somalis battling with starvation and shortage of food.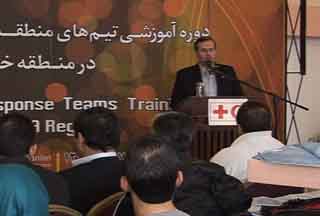 The drought and famine have affected more than 11.8 million people across Somalia, Kenya, and Ethiopia. Somalia has been the hardest-hit country in what is being described as the worst drought in the Horn of Africa in 60 years.
In view of such humanitarian crises which usually come up unexpectedly, the preparedness of the international federation disaster response team is a must since the lives of humans are at stake.