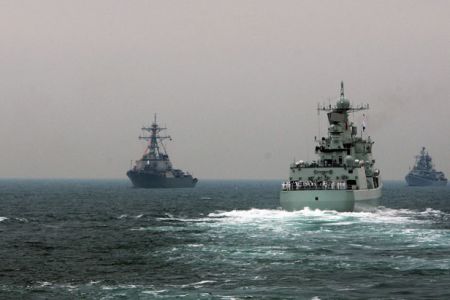 Iran's naval forces have test-fired new classes of domestically-built torpedoes on the fourth day of the ongoing Velayat 90 drill in the Strait of Hormuz and Sea of Oman, Press TV reports.
The fourth day of drill also involved sending commanders to sea to attack predetermined targets as well as destroying an enemy submarine and shooting down a spy drone over the Sea of Oman, using sophisticated surveillance techniques and simulation.
The Iranian naval forces succeeded in displaying its presence in international waters with aerial support.
Following the maneuvers, the Iranian warship escorted a number of commercial ships and oil tankers to Iranian shores.
On Saturday, December 24, Iran's Navy launched a massive 10-day Velayat 90 naval exercise, covering an area stretching from the east of the Strait of Hormuz in the Persian Gulf to the Gulf of Aden.
Different classes of submarines, including Tareq and Qadir, the newest ground-to-sea missile systems and torpedoes have been employed in the maneuvers.
Over the past years, Iran has made important breakthroughs in its defense sector and attained self-sufficiency in producing important military equipment and systems.
The country has repeatedly clarified that its military might is merely based on the nation's defense doctrine of deterrence and poses no threat to other countries.