IIT Exclusive News
Iran
Middle East
North America
Videos
VIDEO: IRGC surveillance drone films US warships in Persian Gulf
Iranian media have released high-quality footage that shows a surveillance drone belonging to the elite Islamic Revolution Guards Corps (IRGC) flying over an American aircraft carrier in the Persian Gulf and capturing images of the aircraft parked on its deck.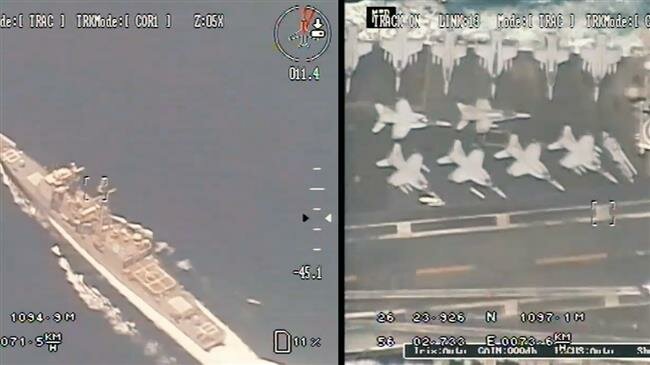 The video, which was released Saturday by Iran's Tasnim News Agency, shows a domestically-built Ababil-III drone operated by the IRGC's Navy capturing close-up shots from above USS Dwight D. Eisenhower.
Besides the aircraft carrier, a destroyer and another, apparently logistical, vessel were also filmed.
The footage, the agency said, "bears special features not seen in videos previously [captured and] released of these vessels." The report added, "The IRGC's Navy maintains [surveillance] command over all terrorist US forces in the region, including the Persian Gulf, and closely monitors their movements."
The report did not specify the date of the footage, which emerged a month after the IRGC's Aerospace Division held offensive-combat drone exercises in the Persian Gulf region, involving dozens of RQ-170 stealth unmanned aerial vehicles (UAVs), which Iran has manufactured based on a model of a US Sentinel drone it captured unharmed in 2011.
Iran's IRGC holds massive drone drills in Persian GulfIran's IRGC flies different types of drones, including 50 reverse-engineered RQ-170s, during massive drills in the Persian Gulf region.
The IRGC's display of its surveillance power comes weeks after the US, in a highly contentious and unprecedented measure, labeled the elite Iranian military force a "foreign terrorist organization."
In a counter-measure, Tehran designated all US forces in the region terrorists.
Washington then moved to tighten its oil sanctions against the Islamic Republic and prevent other countries from buying Iranian crude.
Iran has, however, said Washington's dream of cutting its oil sales to "zero" will never come true because the country knows well how to go around the American sanctions.
The IRGC has also said that Iran may close the Strait of Hormuz in the Persian Gulf — through which nearly one-third of all oil traded by sea pass — if it is prevented from using the waterway.
The US began its military build-up in the strategic waters in the 1980s in support of former Iraqi dictator Saddam Hussein, who had launched a deadly war on Iran.
In 1988, USS Vincennes shot down an Iranian passenger plane, which had just taken off from the southern Iranian coastal city of Bandar Abbas. The attack killed all 290 on board using two missiles. US officials later claimed their warship had mistaken the jetliner for an attacking Iranian F-14 plane
Washington's military build-up in the Persian Gulf prompted Iran's defense forces to boost their presence in the strategic waters to counter potential American acts of aggression.
The history of the IRGC's maritime presence has seen it confronting and capturing trespassing British and American marines.