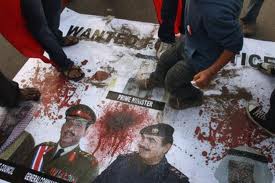 The uprising in Bahrain is almost ten months strong now. The brutal crackdown by the U-S and Saudi backed al-Khalifa ruling family has left the sheikhdom's international image and economy tattered.
Five months ago, trying to gain back some credibility King Hamad bin Isa Al Khalifa set up an independent investigation in to the crackdown.
When on Wednesday the Bassiouni report was released, it laid out the extent of the suppression.
Unlawful detention, night raids, sexual abuse, beatings, torture, electric shocks were all a part of widespread and "systematic torture."
The commission recommended a series of sweeping changes that the King has promised to implement.
But reports from Bahrain suggest violence has continued this week. And Bahraini's are still out on the streets of the tiny Persian Gulf island – and across the world including London.
The reason this protest is marching from the U-S embassy to the Saudi embassy is to highlight the plight of Ali Al-Taweel, Ali Alskankis and Abdul Aziz. All sentenced to death during the crackdown on protestors.
As they marched, protestors passed another demo outside the Egyptian embassy. In an impromptu decision, the two joined forces. Egyptian protestors greeting them with "welcome to our Bahraini brothers we are against sectarianism" and "brothers sunni and shia alike these revolutions are not for sale". It was a poignant moment.
Bahraini's continue to protest. Here they are demanding America stop selling arms to Bahrain. That the british government breaks its silence. And they've ended their angry protest here outside the Saudi embassy. Despite promised change, political prisoners remain in jail, some on death row. And we've just heard that prominent activist zainab al khawaja was jailed on Saturday morning. Protestors say that proves that change has not taken place.