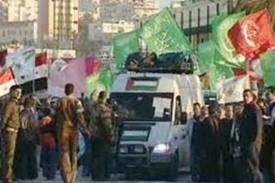 A convoy of dozens of activists from the Arab Spring movement entered the Gaza Strip via the Rafah crossing.
The convoy carries four tons of medical aid and equipment for Gaza's hospital.
After touring the Gaza Strip, the convoy members visited a photo gallery of the israeli war and blockade on Gaza.
Members of the European Campaign to end the Gaza siege along with American and Latin American activists and politicians accompanied the convoy.Part of the convoy's mission was to declare an international day against the years-long Gaza blockade.
A retired U.S Army Colonel and human rights activist accused the United States government of supporting the oppression of Palestinians.
The Islamic Awakening that has been sweeping across the Middle East and North Africa has toppled dictators in Tunisia, Egypt, and Libya and has raised hopes that a new era of change is emerging in the region.