North America
Technology
Videos
VIDEO- NASA rocket explodes on launch in Virginia seconds after its lift-off from a commercial launch pad on Tuesday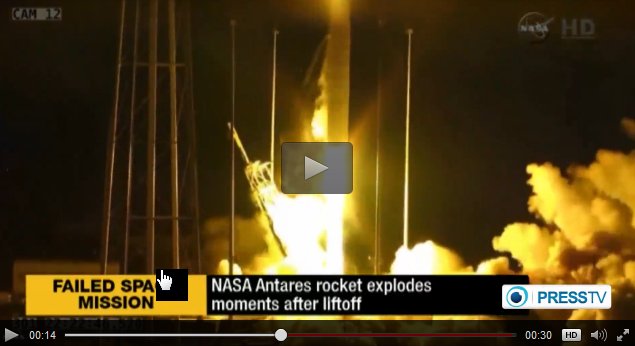 NASA rocket explodes on launch in Virginia, video shows

An unmanned NASA rocket has exploded soon after being launched in the US state of Virginia, a NASA TV broadcast shows.
The Antares rocket blasted seconds after its lift-off from a commercial launch pad on Tuesday.
The Cygnus spacecraft atop the Antares was tasked with delivering supplies, including experiment hardware, spare parts, and crew provisions to the International Space Station.
NASA mission commentator Dan Huot said it was not immediately possible to determine the cause of the accident.
Orbital Sciences executive vice president Frank Culbertson said before the launch that the corporation had gone through "a lot of hard work to get to this point."
The flight is said to have been delayed one day because of a boat that sailed into the restricted safety zone under the rocket's flight path.
Since the space shuttles were retired, NASA has hired two companies to fly cargo to the station.
Virginia-based Orbital Sciences Corporation, one of the two, has a contract with NASA worth of $1.9 billion.
The planned flight was the third out of the eight the company should carry out under the deal.