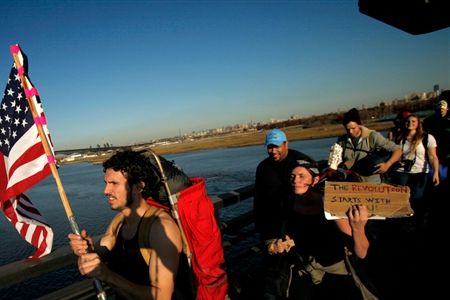 Hundreds of protesters marched on the Port of Long Beach in an attempt to shut down the port systems all along the West Coast.
The march on Long Beach coincided with similar actions in Oakland, Portland, Washington state and Vancouver Canada.
Protesters are targeting SSA Marine, a shipping company with connections to Goldman Sachs.
Protesters say the company engages in unfair labor practices and pursues objectionable environmental policies.
Protesters say the ports were built with taxpayer dollars and are supported by the money they spend in stores.
They say on the other hand, the corporations are the ones who are doing the real damage to the economy.
The demonstration in Long Beach included protesters from all over the state.
Joshua Taylor is one of the nearly three hundred protesters arrested during the police raid on the Occupy Los Angeles camp.
Taylor says the economic injustice caused by companies like Goldman Sachs is why he's risking arrest again.
Protesters blocked the port entrance for about half an hour before police herded them out of the area.
Port officials say the protests caused traffic congestion but had minimal effect on the port's operations.
But protesters were confident that they had slowed business enough to get their message across.
Police eventually pushed the protesters back to a nearby park where the march began.
Heavy rainfall also forced a large number of protesters to leave the area.
However, protesters promised police that they would return soon.
Police say the protests remained mostly peaceful.
At least two arrests were made but there are no reports of major unrest.