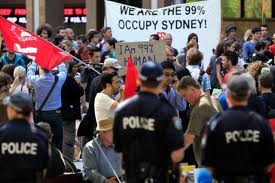 Occupy Sydney have staged a protest outside a Sydney court in support of thirteen Occupy Sydney participants who were arrested during a dawn police raid on October 23.
More than 100 police descended on Occupy Sydney at Martin Place as it entered its ninth day of continuous occupation. The site was dismantled and several people were beaten.
Forty people were arrested during the raid, most of whom were issued with fines and released. The main charges are for failure to comply with a Council notice that prohibits camping or staying over night. Participants claim they have faced continual police violence, intimidation and harassment ever since.
The protesters have arrived prepared to campout and occupy the area outside the courtrooms in the center of Sydney's CBD. They say they want to highlight what they have described as an over-reaction by police in their crackdown on Occupy Sydney's activities.
To date, there have been 59 arrests arising from police attempts to shut down Occupy Sydney.
The legal team representing the arrestees has had the matters adjourned to February 3 in order to explore a constitutional challenge in the High Court. The defendants maintain that the police raid was heavy handed and are challenging the lawfulness of their arrest saying its their right to protest. Rihab Charida, Press TV Sydney.